We'll Get Star Trek Beyond Footage A Lot Sooner Than We Expected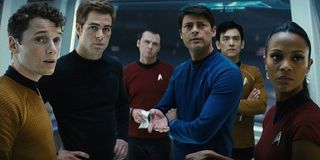 Because every one and their dog is going to see Star Wars: The Force Awakens, studios are currently scrambling to try and get trailers for their own blockbusters attached to the J.J. Abrams-directed seventh installment to the franchise. And it looks as though Paramount has secured quite a coup by securing this coveted spot for Justin Lin's Star Trek Beyond.
That's right, according to The Hollywood Reporter's sources, those of you who are going to see Star Wars: The Force Awakens on the big screen will also be privy to the first glimpse at Star Trek Beyond, too. Of course, when you think about it, this decision makes a whole heap of sense. That's because not only did J.J. Abrams direct the two original installments to the rebooted Star Trek franchise, but he is still on board as a producer for Beyond, while Abrams' production company Bad Robot is also based at Paramount too.
J.J. Abrams actually decided against directing Star Trek Beyond once the opportunity to helm Star Wars: The Force Awakens arose. So even though Disney downright stole J.J. Abrams from both Star Trek and Paramount with the allure of the Star Wars gig, Abrams has now looked to ease the potential bad blood between himself and his old Trekkie buddies with this good gesture.
After J.J. Abrams left Star Trek Beyond behind, Roberto Orci, who both co-wrote and produced Star Trek and Star Trek Into Darkness, was in line to make his directorial debut with the film. However the scribe ultimately left the project in December 2014, and then Simon Pegg and Doug Jung were brought on to write the new screenplay while Justin Lin was hired to direct.
Production commenced earlier this summer, only wrapping in October, and alongside the Starship Enterprise's established team of Chris Pine, Zachary Quinto, Karl Urban, Pegg, John Cho, Anton Yelchin, and Zoe Saldana, Idris Elba has rather excitingly been cast as the film's villain.
That means that there's plenty of excitement to not only see if the Star Trek franchise can still excel without the directing talents of J.J. Abrams, but the shape that the film, which is due out on July 22, 2016, will take without him. We'll get a sneaky peek at its new set-up with Star Wars: The Force Awakens, but what other trailers can we expect to see with the hugely anticipated space opera?
Well, it's pretty much a certainty that the recently released trailer for Captain America: Civil War will be adjoined to The Force Awakens, as both Civil War's studio Marvel and The Force Awakens' Lucasfilm are owned by Disney. That's why we can probably expect to see trailers for either Jungle Book and Finding Dory, too.
Meanwhile there have also been rumors that X-Men: Apocalypse will premiere footage with the film, while Batman v Superman: Dawn Of Justice, The Huntsman's Winter War, and Independence Day: Resurgence are also believed to be in pursuit of the trailer space.
Simply put, even when you're in the cinema just moments away from actually watching Star Wars: The Force Awakens you're going to have to put up with an ungodly amount of trailers before you can finally catch up with Han, Luke, Leia and Chewie. Are you complaining?