What Language Black Panther Is Actually Speaking In Captain America: Civil War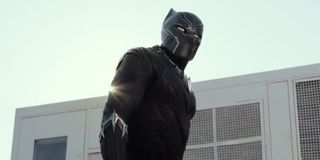 Captain America: Civil War isn't just reuniting us with most of the Avengers. It's also introducing us to two new superheroes. While we've revelled in the web-slinging exploits of a certain Peter Parker for quite a few films now, Chadwick Boseman's T'Challa/Black Panther is making his big-screen debut in the blockbuster. This means that movie audiences are now devouring every bit of information they can about Black Panther, which now includes the fact that his native language in Civil War and the rest of the Marvel Cinematic Universe is Xhosa.
While Chadwick Boseman's superhero actually spends most of Captain America: Civil War speaking English to the other English-speakers, there are one or two scenes that sees T'Challa talking to his father T'Chaka, played by John Kani, in a native Wakanda language. Co-director Joe Russo has now confirmed to Entertainment Weekly that they chose Xhosa for his language, admitting that John Kani actually taught Chadwick Boseman how to speak it.
The decision for Black Panther to speak Xhosa was quite a big one not just for Captain America: Civil War, but for the rest of the Marvel Cinematic Universe, too. That's because we're almost certainly going to see T'Challa and his alter ego frequently uttering the language in his own solo film. It would just be weird if he didn't.
Xhosa is known as "the clicking language," as in order to properly pronounce its x's, you have to put your tongue to the roof of your mouth and then make a clicking noise, which closely resembles the sound of a horse trotting. One of the official languages of South Africa, it is spoken by around 18% of the country's population, while Nelson Mandela spoke it fluently.
Marvel's first Black Panther film is currently in development over at the studio, with Creed's Ryan Coogler taking on both directing and co-writing duties. So far only Chadwick Boseman's titular character has, rather unsurprisingly, been confirmed for the film, but rumors are rife that Andy Serkis' Ulysses Klaue/Klaw will also feature. Andy Serkis made his debut as the character in Avengers: Age Of Ultron, but his comic-book rivalry with Black Panther means that his presence is almost a formality.
While Black Panther's February, 2018, release date is still quite a bit away, you can be rest assured that Chadwick Boseman's Captain America: Civil War appearance perfectly whets the appetite for the film. You can take a sneak peak at Black Panther in action in the blockbuster, below:
You'll get to see the above in all of its glory, as well as in context, tomorrow when Captain America: Civil War is finally released in cinemas across the US.
Your Daily Blend of Entertainment News
Your Daily Blend of Entertainment News
Thank you for signing up to CinemaBlend. You will receive a verification email shortly.
There was a problem. Please refresh the page and try again.