What We Know About The 12 DC Comics Movies Coming By 2020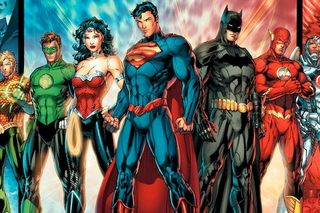 While Marvel has been relatively forthcoming about their upcoming movies, DC Comics has been much more secretive. Aside from Batman v Superman: Dawn of Justice, Justice League and Shazam, that haven't clued in the rest of the world on their upcoming film projects... that is, until now. Earlier today at a shareholder meeting, Warner Bros. unveiled their DC film slate. Kicking off with Batman v Superman in 2016, there will be at total of 11 films released between now and 2020, and maybe more.
There were also a few casting reveals and confirmations, giving us a better idea of what the cinematic Justice League lineup will be like. It's a lot of information to take in, so we've compiled all we've learned about this projects - whether it's from today's announcement or previous reports. Wondering when each film will come out? Who's going to star in the film? How might they affect the DC Cinematic Universe? Find out below!
Batman v Superman: Dawn of Justice
Release Date: March 25, 2016
Stars: Henry Cavill as Clark Kent/Superman, Ben Affleck as Bruce Wayne/Batman, Gal Gadot as Wonder Woman, Jeremy Irons as Alfred Pennyworth, Jesse Eisenberg as Lex Luthor, Amy Adams as Lois Lane, Laurence Fishburne as Perry White and Diane Lane as Martha Kent. Zack Snyder is directing
Possible Plot: While the exact details of the story are unclear, the film's Batman will be partly inspired by Frank Miller's The Dark Knight Returns, while Wonder Woman will retain her demigod origins from the New 52. At San Diego Comic-Con, there was a brief clip of Batman wearing armor while Superman's eyes glowed with heat vision, so it's possible that these two might come to blows during the movie like they did in The Dark Knight Returns. Regardless, Lex Luthor is the film's main villain, so they will probably end up working together to stop him. Given its title, it's also pretty obvious that this film is intended to set up Justice League.
Suicide Squad
Release Date: 2016
Stars: None announced. David Ayer is directing.
Possible Plot: Last week, it was rumored that the members of the cinematic Suicide Squad will be Blockbuster, Multiplex, Jaculi, Mindboggler, Harkness, Vixen and Deadshot. In the comics, Vixen is a superhero who briefly joins the Squad after going berserk and killing a criminal, so this movie may have her attempting to seek redemption for a similar murder/crime. Considering the premise of the Suicide Squad (criminals performing black ops missions for the government in exchange for reduced prison sentences), there will also surely be a high stakes mission for the team, and considering how most supervillains get along with each other, it's not going to go well.
Wonder Woman
Release Date: 2017
Stars: Gal Gadot as Wonder Woman
Possible Plot: Since Wonder Woman will be teaming up with the two other members of the DC Trinity in Batman v Superman: Dawn of Justice, this solo film would be a good opportunity to explore Diana of Themyscira's origin. We know that she'll be a demigod in the DC Cinematic Universe, but the film can delve deeper into her parenthood (her mother Hippolyta and her father Zeus), as well as see her face off against a mythical enemy...perhaps Cheetah? At this point, the DCCU will have primarily explored extraterrestrial and technological elements, but Wonder Woman is the best place to explore the fantastical side of this universe.
Justice League: Part One
Release Date: 2017
Stars: Henry Cavill as Clark Kent/Superman, Ben Affleck as Bruce Wayne/Batman, Gal Gadot as Wonder Woman, and Amy Adams as Lois Lane. Zack Snyder is directing
Possible Plot: Although Cavill, Affleck, Gadot and Adams are the only confirmed stars, DC will surely announce more of the Justice League members in time - such as Cyborg and Aquaman (more on them later). Bats and Supes are cool, but those two do not constitute a League by themselves. As for the plot of Justice League, it's unclear what Snyder and his team have in store, although last week it was rumored that Brainiac will be the main villain (it was also rumored that the villain will be set up at the end of Batman v Superman). Although some, if not all, of the heroes will be introduced in the 2016 film, it's Justice League that will bring together to defeat this world-ending threat - whether it's Brainiac, Darkseid or some other horrifying DC villain.
The Flash
Release Date: 2018
Stars: Ezra Miller as The Flash
Possible Plot: It's official, we'll have a movie AND TV version of The Flash. Earlier this year, DC revealedthat their film and television universes would not be connected, and this cements that decision. This Flash will likely be an origin story, and it's believed that Ezra Miller will be playing Barry Allen, the same version of the hero from the show. The feature will have to do its best to distinguish itself from the TV series, which, if it's still on, will be in its fourth or fifth season by the time the movie is done. People will have gotten used to Grant Gustin as The Flash, so this movie will need to deliver a unique take on the Scarlet Speedster in the DCCU. As for villains, the Flash has one of the most colorful rogues galley in comics, so there are plenty of options. Their best bet would be to go with Captain Cold, and save Professor Zoom for a sequel.
Aquaman
Release Date: 2018
Stars: Jason Momoa as Aquaman
Possible Plot: After months of speculation and poor denials, Warner Bros. has finally announced that Jason Momoa will play the King of Atlantis. At this point we all knew he had the role, but it's good to hear Warner Bros. confirm it. As with Wonder Woman, Aquaman will likely be too busy fighting alongside his new allies in Justice League (and possibly Batman v Superman) to delve into his origin earlier in the DCCU. That's why this movie will likely give us Aquaman's backstory, specifically his half human/half Atlantean heritage, how he found Atlantis, and how he became its king. Aquaman doesn't have many villains, so the two likeliest candidates for main antagonist will be Black Manta or Ocean Master, who is Aquaman's half-brother.
Shazam
Release Date: 2019
Stars: Dwayne Johnson as Black Adam
Possible Plot: There has been some suggestion that Shazam won't be crossing over with the other DC heroes, given that it is set up over at New Line instead of Warner Bros. proper, although that doesn't mean it won't take place in the same universe. We expect that the movie will follow the origin of Billy Batson and how he became the World's Mightiest Mortal. Although its titular character hasn't been cast, Dwayne "The Rock" Johnson will be playing the primary antagonist Black Adam, which must clinch the record of longest interval between casting announcement and movie release. Shazam is also expected to be more light-hearted compared to most of DC's movies, which is natural given that the story is about a boy who can suddenly transform into an adult superhero with the mention of a word.
Justice League Part Two
Release Date: 2019
Stars: None officially announced. Zack Snyder is directing
Possible Plot: This movie could go in any direction depending on how Justice League Part One ends. One thing's clear, though: however bad Part One's bad guy is, Part Two's will be way worse. This movie will also likely introduce more heroes into the Justice League lineup. In the comics, the first Justice League usually consisted of seven members, but Part One might feature a smaller number (maybe four or five) and expand in Part Two. Another possibility is that we may get all of the New 52 lineup in Part One, and Part Two will expand the roster even further. Green Arrow, Hawkman, Black Canary, Martian Manhunter… there are so many heroes to pick from!
Cyborg
Release Date: 2020
Stars: Ray Fisher as Victor Stone/Cyborg
Possible Plot: Since Victor Stone is expected to be introduced in Batman v Superman, we'll probably see his transformation into Cyborg either in that film or in one of the Justice League movies. This would fall in line with the New 52, where Cyborg was one of the founding members. Since he doesn't really have much of a rogues gallery, the movie's antagonist could be anyone, but the story will likely follow Victor struggling to maintain his connection with his humanity even though he's more machine now.
Green Lantern
Release Date: 2020
Stars: None announced
Possible Plot: Nine years will have passed between this Green Lantern film and the last one. Considering how 2011's Green Lantern was a critical and box office disappointment, this Green Lantern film will likely be a reboot. The primary question is, which character will wear the green ring? Hal Jordan has classically been a founding member of the Justice League, so he's the likeliest candidate, which means another actor would likely play the role, replacing Ryan Reynolds. There's also John Stewart, who was the main Green Lantern in the Justice League Animated Series. If Warner Bros. decides that the 2011 Green Lantern is still canon, then using Stewart as this Green Lantern is a good way to stay connected to the previous film while allowing the new story to go in its own direction. One thing: whether this is a reboot or sequel, bring back Mark Strong as Sinestro!
Batman and Superman Solo Films
Release dates: Unknown
Stars: Henry Cavill as Clark Kent/Superman, Ben Affleck as Bruce Wayne/Batman
Possible Plot: Okay, it's cheating to include two characters in the same section, but these two also weren't actually included in the official film slate. Instead, Warner Bros. said in their press release that Batman and Superman would get more standalone films between 2016 and 2020. This means that we could be getting three DC movies in a single year very, very soon. Take that, Marvel! Honestly though, this is hardly a surprise given how much success Warner Bros. has had with these two characters. These films also allow for more exploration of each character's individual mythology without interference from Justice League-related stuff. Superman can fly off on his own again, and we can learn more about this Batman's crusade against crime in Gotham and the people who help him - whether it's Robin, Nightwing, Batgirl, Commissioner Gordon or any other ally. Since this batman lives in a more fantastical world, it also gives the DCCU Batman a chance to not be drenched in realism and deal with threats that are more comic book-y. Killer Croc, Mister Freeze, a centuries-old Ra's al Ghul, and Jason Todd coming back from the dead are just a few of the options.
Your Daily Blend of Entertainment News
Connoisseur of Marvel, DC, Star Wars, John Wick, MonsterVerse and Doctor Who lore. He's aware he looks like Harry Potter and Clark Kent.