Who Convinced Joe Manganiello To Do Magic Mike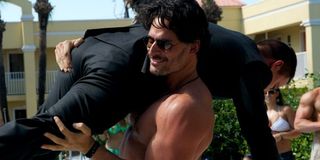 Everyone has their own reasons for getting into male stripper movies, but Joe Manganiello's is pretty surprising. The former True Blood star was so used to stripping down to his bare bottom on HBO's sexy vampire/werewolf/fairy series one would think he'd have no issue with doing the same on the big screen for Magic Mike, but, as it turns out, he needed a little convincing. The person to offer this sage wisdom was his What To Expect When You're Expecting co-star Chris Rock. It wasn't his bombshell of a fiance, Sofia Vergara. It wasn't any of his #Truebies. It was Chris Rock.
Manganiello hit up Late Night With Seth Meyers to discuss his upcoming role in Magic Mike XXL, which is out in theaters next week on July 1st. The host asked the actor point blank if Rock was the one who convinced him to be a part of the film, which Manganiello confirmed. According to the man who goes by Big Dick Richie in the Magic Mike films, he was afraid of becoming universally hated by male audiences. With this another role where he spends most of his screen time either shirtless or gyrating his hips, he considers himself a man's man and didn't want to be seen as "that guy." However, Rock gave him some sound advice. Explained Manganiello,
What sealed the deal for Chris Rock, at least, was the inclusion of Steven Soderbergh. After his co-star told him that the director of Ocean's Eleven and Side Effects was helming Magic Mike, Rock told Manganiello he had to do it. Watch the full interview between Manganiello and Meyers in the video below.
In addition to Manganiello, Magic Mike XXL brings back the rest of the Kings of Tampa as well, a.k.a. Channing Tatum, Matt Bomer, Adam Rodriguez and Kevin Nash. Picking up a few years after the finale of the first film, Mike has his own custom furniture business and his buddies similarly want to hang up their jockstraps for good… but not before one last blowout in Myrtle Beach. There's a male stripping convention and the boys are having themselves a road trip. Along the way, they'll encounter a bunch of new characters played by Elizabeth Banks, Jaden Pinkett Smith, Donald Glover, Stephen "tWitch" Boss, Andie MacDowell, Amber Heard and Michael Strahan.
Your Daily Blend of Entertainment News