Who Would Win In A Fight Between Loki And Scarlet Witch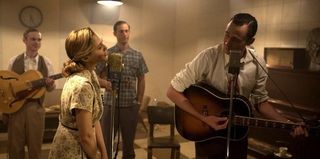 Though they have yet to appear on screen together, Tom Hiddleston's Loki and Elizabeth Olsen's Scarlet Witch are both members of the ever-growing Marvel Cinematic Universe. They do, however, both star in the upcoming Hank Williams biopic I Saw the Light, and it appears they have each given some serious thought to which of their comic book characters would win in a confrontation. Of course, they each have a different opinion on what the ultimate outcome would be.
Hyping up I Saw the Light at the Toronto International Film Festival, the duo sat down to talk to The Hollywood Reporter, and as happens, the subject of their Marvel careers came up. When asked who would emerge victorious, Olsen said:
For his part, I Saw the Light writer/director Marc Abraham seconded her stance. Wanda Maximoff, also known as the Scarlet Witch—though, for rights reasons, she's never referred to as such in the MCU—is incredibly powerful. Not only does she has the ability to throw around energy and physically move things, as we saw in her debut in Avengers: Age of Ultron (she does show up in the post-credits scene of Captain America: The Winter Soldier, but Ultron was really her coming out party), but she can also get into peoples heads and tinker with their minds.
That said, Tom Hiddleston does bring up an important point, one that you can't ignore, namely that Loki is, in fact, a god. He said:
It's hard to argue with that, but as powerful as they both are, it's easy to imagine such a clash being more of a mental battle. Loki is never one to use brute force when manipulation, cunning, and trickery are an option; he prefers to leave the fisticuffs to his dear brother, Thor. But as we saw, Scarlet Witch can mess with all manner of powerful beings. After all, it was her doing that set Hulk off on a kill-crazy rampage that almost ruined an entire city in Age of Ultron. If she gets into Loki's noggin, there's no telling what damage she can do. Then again, it's difficult to bet against a god.
While there's a possibility we could see such a meeting on screen, for the time being, it will have to remain theoretical. While damn near every member of the MCU, including Scarlet Witch, will show up next year in Captain America: Civil War, Loki is one high profile character who will not be in attendance. Unless he shows up in a small cameo or post-credits scene, he will most likely appear next in 2017 in Thor: Ragnarok.
I Saw the Light hits theaters on November 27, but you will have ample opportunity to see both Tom Hiddleston and Elizabeth Olsen outside of that film. He can also be seen in Ben Wheatley's High-Rise, Guillermo del Toro's Crimson Peak, and Kong: Skull Island, while she will show up to mess with villains' minds in Captain America: Civil War.
Your Daily Blend of Entertainment News
Thank you for signing up to CinemaBlend. You will receive a verification email shortly.
There was a problem. Please refresh the page and try again.