Why Avengers: Infinity War Won't Include Certain Marvel Superheroes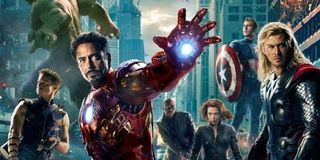 Since very nearly the beginning of the entire Marvel Cinematic Universe experiment the story has been building itself toward a major conclusion. Avengers: Infinity War was one of the biggest crossover events in the history of the comics, and so the expectation is that the film version will also bring together every Marvel hero that we've met so far. It turns out that this may not be the case, however, as getting access to Marvel's slate of TV characters is only slightly less difficult than it would be to get the X-Men.
It's fairly well known that the movie and TV divisions at Marvel are separate entities. They keep each other in the loop on what they're doing, so that continuity remains intact, but it looks like once a hero is given to one division or another, then that toy remains in that particular sandbox. Anthony Russo, one of the directors of the upcoming Infinity War was asked about the possibility of seeing Netflix characters, like Jessica Jones, going up against Thanos. His response, to Spanish language site, Super, will not be pleasing to fans who want to see the Defenders aiding the Avengers.
Even though both sides of the MCU are owned by Marvel it's not as simple going next door and borrowing Daredevil from the TV guys for a minute. Russo says it's a smaller scale version of the same problem that previously prevented Spider-Man from being part of the MCU. Though, as with Spider-Man, he does admit that crossovers are certainly possible.
Crossovers have taken place before within the two divisions, though thus far they've only gone in one direction. Agent Coulson of Agents of S.H.I.E.L.D actually began his life on the movie side before being drafted by TV to help launch the entire division. We have also seen Samuel L. Jackson guest star on the series as Nick Fury. Beyond that, all we've seen are references on the TV shows to characters and events from the films. Nothing on the TV series has, as of yet, made an impact on the films.
Marvel's Netflix series especially have become major hits with audiences, so many would certainly love to see these characters get some time on the big screen. Hopefully, they can work with the guys in the office next door in order to put together the necessary deals to make it happen.
CinemaBlend's resident theme park junkie and amateur Disney historian. Armchair Imagineer. Epcot Stan. Future Club 33 Member.
Your Daily Blend of Entertainment News
Thank you for signing up to CinemaBlend. You will receive a verification email shortly.
There was a problem. Please refresh the page and try again.