Why George Lucas Isn't Going To Direct Anymore Big Budget Films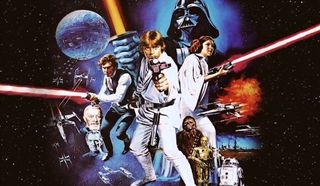 Over the course of his now 50-year career, George Lucas has had a hand in any number of massive movies. The mastermind behind the Star Wars franchise, as well as a driving force behind the Indiana Jones movies, his resume is nothing if not impressive. After selling Lucasfilm to Disney he's moving on to a new phase in his professional life, but don't expect to see him helm any huge, expensive blockbusters in the future, he has other plans.
Building up to The Force Awakens, the first Star Wars movie in which Lucas is not involved, there's been keen interest in his take on the new direction of the franchise. When Vanity Fair caught up with the filmmaker, he explained why he stepped away from the film universe he created, and why he plans to stay away from similarly large-scale projects:
Given how much heat Lucas takes for the three Star Wars prequels—The Phantom Menace, Attack of the Clones, and Revenge of the Sith—not to mention going back and tinkering with the original trilogy, it's easy to see how he could grow weary of the constant criticism. Especially with a series as beloved and obsessed over as Star Wars, every last choice is going to be examined and picked at. No matter what, he was never going to make everyone happy, and those he disappointed have been rather vocal over the years. However thick your skin, that has to wear on you after a while.
As much as I adore Star Wars, it would be cool to see George Lucas get back to doing different stuff, see if maybe he has another THX-1138 or American Graffiti in him. It will be fun to see what else he has in him.
For now, however, it appears that Star Wars is in capable hands, or at least in the hands of filmmakers who are such devoted, lifelong fans that they're taking great pains not to screw everything up. The torch has been passed off to the likes J.J. Abrams, Gareth Edwards, and Rian Johnson, who are working on Star Wars: The Force Awakens, Star Wars: Rogue One, and Star Wars: Episode VIII, respectively. While we haven't seen much from any of these projects, or the myriad other Star Wars movies on the way over the next few years, but what we've seen looks promising, and the people involved are certainly enthusiastic as all hell.
We'll get our first look at a post-George Lucas Star Wars when The Force Awakens opens on December 18.
Your Daily Blend of Entertainment News
Your Daily Blend of Entertainment News
Thank you for signing up to CinemaBlend. You will receive a verification email shortly.
There was a problem. Please refresh the page and try again.