Why Hawkeye Gets Drawn Into Captain America: Civil War, According To Jeremy Renner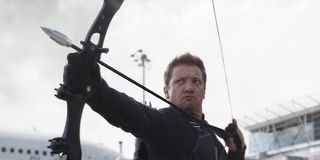 The last time moviegoers saw Hawkeye in Avengers: Age of Ultron, he'd hung up his bow and arrows to spend more time with his family. Obviously that didn't stick, as he'll be one of Captain America: Civil War's many superhero participants next month, siding with Team Captain America during the conflict. Despite the footage of him in action, there hasn't been a clear reason provided for why he's returned, but actor Jeremy Renner revealed that Hawkeye has come out of retirement out of a sense of obligation for two of his allies.
While the first joked that Clint Barton simply grew bored with playing golf during all that down Renner explained to Marvel UK & Ireland that the archer returned primarily for Scarlet Witch and Captain America. He said:
The part about Captain America needing him makes sense. Because Steve Rogers is on the run due to not following the Sokovia Accords and helping Bucky Barnes, a wanted man. He needs all the friends he can get, and luckily, Hawkeye was willing to oblige. However, the part about Scarlet Witch is less clear. During the Battle of Sokovia in Avengers: Age of Ultron, Clint inspired Wanda Maximoff to overcome her fears and help battle Ultra's army. Later, Wanda's brother, Pietro, a.k.a. Quicksilver, gave his life to protect Hawkeye from gunfire. Maybe Clint feels responsible for Pietro's death, even though he himself was protecting a child, and to pay off this debt, he joins Team Captain America.
Whatever the reason, Hawkeye and Scarlet Witch will be fighting alongside Captain America, Falcon, Winter Soldier and Ant-Man as the main protestors against the Sokovia Accords, a.k.a. the new legislation passed by the world's governments mandating that the Avengers and other enhanced beings be officially monitored. Their opponents will be the pro-registration Team Iron Man, which consists of Iron Man (duh), War Machine, Black Widow, Vision, Black Panther and Spider-Man. The main clash between the teams in Captain America: Civil War will occur at an airport in Germany, and needless to say, thing will get ugly.
Just like in Thor, The Avengers and Avengers: Age of Ultron, Hawkeye will be pulling out his usual bow and arrow tricks, but we've also seen in some footage that he'll eventually be forced to fight Black Widow, his former S.H.I.E.L.D. partner/best friend. Hardcore comic book fans will also be pleased to see the classic combo movie of Hawkeye shooting the tiny Ant-Man out into the field, which we guess we'll then lead to Scott Lang becoming Giant-Man. This won't be the last time we see Hawkeye return to his action-packed life, as Jeremy Renner is confirmed to appear in at least one of the Avengers: Infinity War movies
Captain America: Civil War charges into theaters on May 6.
Connoisseur of Marvel, DC, Star Wars, John Wick, MonsterVerse and Doctor Who lore. He's aware he looks like Harry Potter and Clark Kent.
Your Daily Blend of Entertainment News
Thank you for signing up to CinemaBlend. You will receive a verification email shortly.
There was a problem. Please refresh the page and try again.