Why Kristen Wiig Decided To Go Nude In Welcome To Me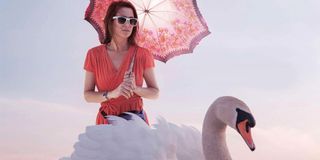 As Kristen Wiig continues to expand her post-Saturday Night Live career with an eclectic range of projects, there is one moment in her upcoming film, Welcome to Me, where she goes even further, with a nude scene. It wasn't something for which she actively campaigned, however, the Bridesmaids and future Ghostbusters star revealed her thinking behind showing some skin.
In an interview with Entertainment Weekly, Kristen Wiig discusses the bizarre nuances of her character in the experimental dramedy, Welcome to Me. The film, about a mentally unstable woman who wins an $86 million lottery, becomes a tour de force of nouveau riche ridiculousness. Most notably, it also includes a scene where Wiig appears sans clothing walking through a casino. Why would a comedian of her caliber do that? Well, as Wiig explains:
Wiig felt that the scene in question, which will earn her a place in the Mr. Skin database, was integral to the arc of her role. Her character is designed to evoke a bizarre mix of emotions from the audience, being both offensive and pitiable. In fact, Wiig was actually reluctant to take the nude scene because she was afraid that the act of exhibitionism was done in a way to make fun the character's mental disorder. However, it was apparently done in a way that was tasteful enough to alleviate those fears.
In the film, Kristen Wiig plays a woman named Alice Kleig, who suffers from borderline personality disorder, a mental malady that's typically marked with impulsive acts and over-the-top behavior believed to compensate for fears of abandonment and irrelevance. Winning $86 million, Alice avoids the prudent course of investing in a solid nest egg, or even donationing to benevolent causes. Instead, in a testament to her state of mind, her knee-jerk choice is to toss millions of dollars at a TV network to get her own gaudy talk show in the hope of becoming famous. Her show becomes a bizarre spectacle, kicking-off with her arrival on a giant swan boat, filled with moments of her starring vacuously into the camera, and the gluttonous gulping of a giant meatloaf cake.
In that sense, Alice serves as the embodiment of the rampant narcissism rampant across the culture. The aforementioned in-the-buff display of public exhibitionism seems to be an important contribution the character's mindset as both a moment of liberation and a desperate cry for attention. Yet, as Wiig also observes, while "you kind of want to hate her, you feel sorry for her." Adding, "you're embarrassed by her, but can't stop watching what she's doing." In other words, she's the epitome of the "famous for being famous" subculture.
Welcome to Me, which debuted last September at the Toronto International Film Festival, features an impressive array of co-stars, like James Marsden, Linda Cardellini, Tim Robbins, Jennifer Jason Leigh, and Wes Bentley. The film hits theaters in the United States on May 8.
Your Daily Blend of Entertainment News
Your Daily Blend of Entertainment News
Thank you for signing up to CinemaBlend. You will receive a verification email shortly.
There was a problem. Please refresh the page and try again.