Why Mark Hamill Was Hesitant To Star In The Force Awakens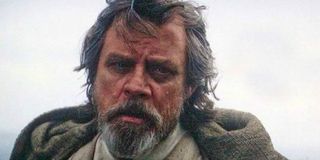 There was a preposterous amount of secrecy surrounding Mark Hamill's return as Luke Skywalker in Star Wars: The Force Awakens. Obviously, we now all know why that was the case, as Mark Hamill was only involved in one scene in the film, which just so happened to occur right at the end. And J.J. Abrams has now admitted that Mark Hamill was rightly rather hesitant about returning to the franchise because of how meager his part seemed to be.
J.J. Abrams made this admission while chatting to Chris Rock as part of the Tribeca Talks: Director Series at the 2016 Tribeca Film Festival. Obviously a little thing called Star Wars: The Force Awakens was going to be discussed. After Chris Rock called the conclusion to The Force Awakens one of the greatest in cinema this year, J.J. Abrams provided further details on how he built to the ending, and how he had to convince Mark Hamill that it wouldn't be "silly."
Obviously that worked because J.J. Abrams admitted that he became emotional and even shed a few tears while watching Mark Hamill film his scenes opposite Daisy Ridley on Skellig Michael in Ireland. Especially since he realized during this shoot that Hamill was the exact same age that Alec Guinness was when the legendary English actor played Obi-Wan Kenobi in Star Wars: A New Hope. It also helped that J.J. Abrams was listening to John Williams' epic score during filming, which is immediately tear provoking.
Another possible reason J.J. Abrams was emotional filming this moment was the fact that he knew that this would probably be the only time that he'd get to shoot Mark Hamill as Luke Skywalker. When J.J. Abrams signed on to direct The Force Awakens, he was adamant that this would be his only Star Wars film, as he'd already worked on the Star Trek and Mission: Impossible franchises, and he wanted to focus on more original films.
Rian Johnson and Colin Trevorrow will now take over directing duties with Star Wars: Episode VIII and Star Wars: Episode IX, respectively. And they'll no doubt be grateful that J.J. Abrams' stupendous work on The Force Awakens has given them a sturdy foundation to build upon, especially when it comes to Luke Skywalker.
Your Daily Blend of Entertainment News
Thank you for signing up to CinemaBlend. You will receive a verification email shortly.
There was a problem. Please refresh the page and try again.