Why Marvel Fans Can Start Getting Hyped Up For Captain America: Civil War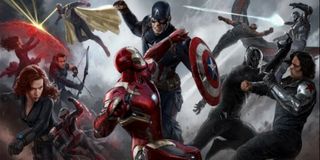 Are you excited for Captain America: Civil War? That question was rhetorical because I already know you are. Of all the potentially groundbreaking films that will hit cinemas in 2016, arguably no other has built up as much hype as Civil War. The bar for the major Marvel smack down was already pretty high, but if new reports are any indication, you may want to set your expectations even higher.
A new report from Birth.Movies.Death suggests that Civil War is testing well with audiences. Really well. Like unreasonably well. In the words of the website, the upcoming Marvel Phase 3 film is testing "through the roof." To put all of this into perspective, the report indicates that audiences have rated Civil War as good as, if not better than, Captain America: The Winter Soldier. Considering that The Winter Soldier is widely considered the best solo Marvel movie to date, that's some pretty high praise. Perhaps the most important revelation from this story is the fact that Civil War apparently doesn't hold back anything during it's third act, leading us to believe that we should be ready for an emotional roller coaster -- now we're just taking bets as to who will survive.
It goes without saying that this is phenomenal news for Marvel Studios, because they need Civil War to go off without a hitch. Not only would fans never forgive them for mishandling such an iconic storyline, but also the film essentially serves as Avengers 2.5, launches Phase 3 of the MCU, and introduces several new major characters like Spider-Man and Black Panther. In one movie the landscape of the Marvel Cinematic Universe could change forever. Against all odds, it seems that the Russo Brothers have found a way to balance all of those elements into one epic experience that meets and exceeds the expectations of test audiences.
Despite all of the anticipation, the film has remained firmly under wraps, with the exception of a trailer that dropped a couple of months ago and some promotional materials here and there. Compared to the recent influx of marketing related to Batman v Superman: Dawn of Justice we almost forgot Civil War was even coming out this year. Still, there's nothing stronger than word of mouth, and the knowledge that the film is already doing so well with audiences has us titillated to say the least.
Chance are you've seen it hundreds of times by now, but check out the trailer for Captain America: Civil War below:
Only time will tell if Civil War turns out to be as good as people are saying it is. We will keep you posted with any and all information related to the release of the film as it becomes available to us. Captain America: Civil War will blast its way into theaters on May 6, so make sure to mark your calendars.
Originally from Connecticut, Conner grew up in San Diego and graduated from Chapman University in 2014. He now lives in Los Angeles working in and around the entertainment industry and can mostly be found binging horror movies and chugging coffee.
Your Daily Blend of Entertainment News
Thank you for signing up to CinemaBlend. You will receive a verification email shortly.
There was a problem. Please refresh the page and try again.