Why The Revenant's Director Will Never Make Another Movie Like The Revenant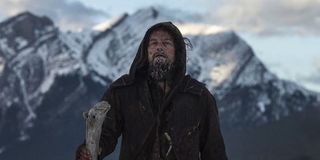 If you've watched Alejandro Gonzalez Inarritu's latest film, The Revenant, you know that it's a brutal, punishing movie. And if you haven't, prepare yourself for an endurance test. At this stage, tales of the hardships the cast and crew faced on set have become almost as big a deal as the movie itself. And though the movie is earning quite a bit of praise, don't expect to see Inarritu make another movie like this, ever.
Inarritu, who won the Best Director Oscar last year for Birdman, talked about the film and the production process with The Frame, and when the subject of tackling other projects like this came up, he was very frank. He said:
The Revenant tells the story of Hugh Glass, a real-life trapper and guide on the frontier of the 1820s, played by a damn near feral Leonardo DiCaprio. After getting mauled by a bear (not raped by a bear, as some reported), being left for dead, and witnessing his son's murder, Glass embarks on an epic, harrowing journey of survival through the frozen northern winter to exact revenge on the man responsible.
A pummeling as the story is, bringing it to life was almost an equally herculean a task. Tons of stories about the troubles on set and adverse filming conditions—which, at one point, led some members of the crew to leave the production—have made the rounds, so even though Inarritu seems pleased with the finished product, it's easy to see why he might not want to tackle anything of this ilk ever again.
Members of the cast and crew persisted through an extensive, months long shoot, almost all of which took place outdoors in freezing, subzero conditions—both in Canada and, later, Argentina, where they relocated for more snowy conditions—which even caused the equipment to fail in some instances. DiCaprio endured a near-starvation diet and multiple scenes where he's climbing in and out of rushing rivers in the dead of winter. He has said it's the "toughest" film he's ever made.
This is definitely a "once in a lifetime" type of experience, but it's also sounds like one of those that, once you've lived through it, you may not be super eager to tackle again anytime soon.
The Revenant is playing in select markets now and expands to more in the coming weeks.
Your Daily Blend of Entertainment News