Zach Braff Still Working To Make Swingles Happen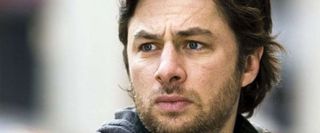 It's been a long road for Swingles. Way back in July of 2006, word first got out that Paramount snatched up Duncan Birmingham's spec script. Then, three years later, it was announced that Zach Braff signed on not only to star in the film, but rewrite and direct it as well. Well, it's now April of 2011 and the story about a bachelor who recruits a sharp-tongued woman who he can't stand as his wingman has yet to come to life.
So, what now? Will Swingles ever happen? While promoting his upcoming film The High Cost of Living, Braff took the time to set the record straight – or as straight as he can for the time being. "Swingles is a movie that was at Paramount that Paramount wasn't interested in making anymore," Braff explained. "The producers and myself have gotten several financiers interested in making it." This is a piece Braff is particularly proud of. "It's a kind of studio romantic comedy that I would really like to see that I feel like is written for people that are not going to roll their eyes and go, 'Oh my god, this is the same thing we saw in last week's romantic comedy.'" Should Braff's financiers pull through, Swingles could really happen.
Hear all about the outlook on the film straight from Braff himself in the clip below and keep an eye out for our full interview with the actor on The High Cost of Living later this week.
Your Daily Blend of Entertainment News
Staff Writer for CinemaBlend.