New Batman V Superman Ultimate Edition Trailer Shows Off Even More Battle Footage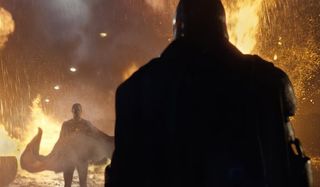 Batman v Superman: Dawn of Justice finally arrives on home media next week (it's a longer wait if you're eager to grab the Blu-ray), but the movie is offering way more than the usual home release. In addition to the theatrical version, Warner Bros is also releasing the R-rated extended cut, which boasts 30 minutes of extra footage and added violence. The first trailer for this "Ultimate Edition" came out a few weeks ago, but now a new preview has arrived that offers even more action.
While the new Ultimate Edition trailer (posted via JoBlo) still advertises all the extra content it will provide, there's definitely more of a focus on the story's various battles this time around. Batman shooting at the bad guys from the Batplane, Superman blasting his heat vision, and best of all, Wonder Woman stabbing her sword into Doomsday. Oh, and as one would expect, there are a lot of shots from the brawl between Batman and Superman. Say what you will about Batman v Superman: Dawn of Justice, it had a lot of great actions scenes, and thanks the Ultimate Edition's R rating, they'll be even more intense.
As far as story beats go, there is one notable minor addition in the preview that weren't seen on the big screen. During the scene where Batman corners Lex Luthor in prison, the newly bald antagonist tells the Caped Crusader, "This is how it all caves in." There have been reports that in the Ultimate Edition, Lex reveals that he knows Bruce Wayne is Batman. If that's true, considering that he also figured out who Superman is, it's refreshing to know Lex was smart enough to deduce that it's one of his fellow billionaires who fights the bad guys in a cape and cowl. Still, that may not bode well for Batman in Justice League in case Lex decides to pass that information to the wrong people.
Other cool moments from the new Batman v Superman trailer include Bruce telling Alfred he doesn't deserve him, to which the older man responds, "No, sir, you don't," as well as the same shot of that aircraft blowing up in the extended Africa sequence. It's also confirmed (even if most already suspected) that the "Communion" deleted scene will reincorporated into the movie, making it clearer how Lex Luthor knows that Steppenwolf is coming to Earth in Justice League. Along with the 30 minutes of extra footage, the Ultimate Edition will also come with over two hours of bonus features.
Batman v Superman: Dawn of Justice - The Ultimate Edition will be available for digital purchase on June 28, and the Blu-ray will follow on July 19.
Connoisseur of Marvel, DC, Star Wars, John Wick, MonsterVerse and Doctor Who lore. He's aware he looks like Harry Potter and Clark Kent.
Your Daily Blend of Entertainment News
Thank you for signing up to CinemaBlend. You will receive a verification email shortly.
There was a problem. Please refresh the page and try again.