11 Great Animated Films You Can Stream On Netflix Now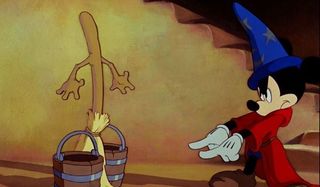 The Netflix Instant universe is vast, and full of many delights from all corners of cinema. Chances are, if you're in the mood for a certain genre, there's at least 11 movies that'll scratch the itch. Which is why, on a weekly basis, we here at Cinema Blend will bring you the 11 most interesting offerings in a genre, all of which are available for streaming through your Netflix account (opens in new tab).
Last week, we wooed you with 11 romantic comedies worthy of the finest at-home date nights. This week, we'd like to take the opportunity to entertain the entire family, as the following animated options are available for those of you who've already taken the kids to see Finding Dory or The Secret Life Of Pets. So build a blanket fort, make some lemonade, and enjoy the following flicks, perfect for an indoor drive-in.
Lilo And Stitch
At the turn of the century, Disney underwent yet another, albeit a more quietly acknowledged renaissance. Part of this undervalued period in the company's history is the widely acknowledged Lilo and Stitch. In an era where the competition was growing by leaps and bounds, Disney took a chance on a film about a young girl with anger issues, and the mayhem machine alien that somehow helps her work them out. A gorgeous triumph of hand drawn animation, Lilo and Stitch is all at once funny and heartbreaking, with a well-earned happy ending.
Chicken Run
Aardman Animation's history of both Claymation and computer animated films is storied and filled with absolutely hysterical delights. Chicken Run is one such delight, as it pits an eager group of chickens against a sadistic farmer, all with the help of an American rooster who can fly. Yet for such a simple story, Aardman injects its trademark brand of dry British wit and highbrow slapstick, to create a retelling of The Great Escape that children and adults alike can enjoy. Chances are you and the kids haven't seen it yet, so now's as good a time as any to get acquainted.
Fantasia
Animation can make us laugh, and it can make us cry, but above all else, it can make us think. It shouldn't be an alien concept, as the very visual complexity of the medium demands that we engage the material more than a simple filmed image. With Fantasia, the artistry of the animation is matched only by the craftsmanship of the classical music accompanying the images. While this may be a better choice for your older children at home, it is a film that just might turn them onto the joys of classical music and fine art. A feast for the eye, as well as the mind, Fantasia is a legendary treat that deserves sharing.
How To Train Your Dragon 2
As if How To Train Your Dragon wasn't thrilling and heartwarming enough,How To Train Your Dragon 2 only ups both antes, and to an extremely pleasing extent. With Hiccup and friends now in command of their favorite dragons from the previous film, the threat to their homeland is increased as the villainous Drago Bludvist (Djimon Hounsou) has his sights set on world domination, courtesy of his own dragon army. If you've always gotten a sense of déjà vu after watching one of the Dragon films, it's with good reason as the co-creators of Lilo and Stitch, Dean DeBlois and Chris Sanders, also created this beautiful and moving series.
Mr. Peabody And Sherman
It's easy to create a modern version of a nostalgic property, but to make a film that not only honors the original source with such ease, while adding an emotional element that wasn't previously present, that's something few can pull off. Mr. Peabody and Sherman is one of those rare films that executes that very sort of feat, as the backstory behind Mr. Peabody's adoption of Sherman adds a whole other dimension of storytelling the original cartoons never dreamed of telling. Though don't expect a total sob fest, as the historical fueled humor of Ted Key and Jay Ward's original shorts is still intact.
Disney's Tarzan
Depending on how well you enjoyed this year's The Legend of Tarzan, you may be cheering or jeering the inclusion of this film. Nevertheless, Disney's Tarzan adaptation is as gorgeous as some of their best work in animation, with the addition of a musical score containing several prime songs written and sung by Phil Collins. The film tells the basic Tarzan story of how he was raised by a family of gorillas, only to later encounter humans that look to harm and/or help his adopted home. If you're not comfortable with your children going to see the darker looking version David Yates has cooked up for theaters, then this is a more than fitting substitute.
Justice League: The Flashpoint Paradox
While DC Comics is having a rough go with their live-action universe, there's one area where they have Marvel Studios beat: the animated market. Tons of fantastic DC animated films have been flowing forth from Warner Brothers, and quite possibly the best one of the modern run is Justice League: The Flashpoint Paradox. When Barry Allen accidentally saves his mother from her fateful death, the entire DC Universe is thrown into chaos. This chaos is what the current CW television shows are about to start embracing in their upcoming season runs, so watching this animated feature is a great way to see what's in store for your favorite TV heroes.
Penguins Of Madagascar: The Movie
If we had a nickel for every underrated Dreamworks Animation feature, we'd probably have a good amount of change on our hands. Case in point is the Madagascar spin-off picture, Penguins Of Madagascar: The Movie. Everyone's favorite flappers are on their own adventure, as an evil octopus engages in behavior worthy of a Bond villain, all in the name of subjugating humanity to his evil whims. With action, gags, and particularly inspired performances by John Malcovich and Benedict Cumberbatch, Penguins Of Madagascar: The Movie makes for a fun off-shoot of the antics you may be accustomed to from its mother franchise.
Road To El Dorado
We swear, this is the last Dreamworks feature we'll be talking about, and we've saved one of their best, most underrated films for last. While The Road To El Dorado is a pretty hard sell for kids who are still really deep into the catalog of Winnie The Pooh, the older your children get, the better they'll understand this musical comedy hybrid. Though much like all of their animated favorites, there's big star power and catchy songs abound in The Road To El Dorado, as Kevin Kline and Kenneth Branagh play our leading con artist conquistadors, and Elton John crafts some memorable tunes to go along with their shenanigans.
The Boxtrolls
Ever since the release of their first feature film, Coraline, Laika Studios has brought a special brand of stop-motion magic to each animated film they've produced since. The Boxtrolls is the latest example of their work that's available for your familial perusal, and it's a great lead into this summer's Kubo and the Two Strings. Much like Coraline, or even Paranorman, The Boxtrolls isn't afraid to be more eccentric or outlandish than a typical family film, showing a story about an underground society of creatures and their struggle against humanity's ill designs against them. If Roald Dahl is one of the authors your children enjoy the works of, there's a good chance they'll love The Boxtrolls.
Anastasia
We end our list with a musical that is time and time again confused with being a Disney movie. Don't feel bad if you're on the list of people who make that mistake, as it was directed by Disney vets Don Bluth and Gary Goldman. However, the big difference between Anastasia and your run of the mill Disney film though is the fact that there's a much darker undercurrent to this film than you would find in most other films from their canon. Which is why it's a good thing that Anastasia was set up over at Fox, as we shudder to think how much would have changed if this actually was a Disney film. With a musical being prepared to premiere on Broadway sometime next spring, now's as good a time as any to fall in love with the poor girl who just might be a missing princess.
CinemaBlend's James Bond (expert). Also versed in Large Scale Aggressors, time travel, and Guillermo del Toro. He fights for The User.
Your Daily Blend of Entertainment News
Thank you for signing up to CinemaBlend. You will receive a verification email shortly.
There was a problem. Please refresh the page and try again.