New Transformers Photos Confirm A Massive Rumor About When The Last Knight Takes Place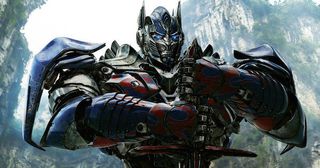 Just when you thought it couldn't get any crazier, the Transformers franchise goes all out and outdoes itself time and time again. Michael Bay's blockbuster series centering on transforming robots has never exactly played it safe or subtle, but the upcoming fifth installment looks like it will take its bizarre concept to the next level. New reports from the set of the film seemingly confirm that Transformers: The Last Knight will look to mythology to inform its backstory, specifically the legend of King Arthur. Yes, you read that right, folks; now get excited for what's coming.
According to a new report from BBC, it seems that the fifth installment in Michael Bay's long-running Transformers franchise may have some connection to the mythical legend of King Arthur. Actors have been spotted on the Scottish Isle of Skye -- where the film is currently shooting -- wearing traditional medieval garments and riding on horseback. Although the film will primarily take place in the modern era, this seems to point to at least one flashback sequence that ties the mythology of the Autobots and the Decepticons in with the legend of King Arthur. If I see Optimus Prime pull a sword out of a stone then I might actually freak out. I'm just putting it out there.
Further adding credence to these rumors is the recent report that magic from Arthurian legends would play a prominent role in the upcoming Transformers adventure. We recently reported on a specific rumor from the set that the iconic fictional wizard, Merlin, might actually have had some sort of relationship with the robots in disguise, and that he may have actually received his powers from an ancient Transformer at some point in history. This raises one very important question: what did Transformers disguise themselves as back in the days of horses and castles?
The fact that Transformers: The Last Knight is going to such great lengths in order to establish a deeper sense of history for the titular shape-shifting robots makes quite a bit of sense when we think about it. The Transformers franchise generally seems to be moving in a more "cinematic universe" oriented direction, and crafting a history, as well as a rich mythology, helps these movies feel like a more like they exist within a living and breathing world.
We've seen other franchises use similar tactics before to great effect. For example, 20th Century Fox's X-Men universe regularly ties its fictional films into genuine historical events -- such as the Cuban Missile Crisis or the ending of the Vietnam War -- and that method has worked wonders for them in recent years. Transformers: The Last Knight will utilize a similar tactic, but it will tie the titular alien beings in with mythology, rather than history.
Cinema Blend will keep you up to date with any and all relevant details related to the upcoming release of Transformers: The Last Knight as more information becomes available to us. The fifth installment in Michael Bay's Transformers series will blast its way into theaters next summer on June 23, 2017.
Originally from Connecticut, Conner grew up in San Diego and graduated from Chapman University in 2014. He now lives in Los Angeles working in and around the entertainment industry and can mostly be found binging horror movies and chugging coffee.
Your Daily Blend of Entertainment News
Thank you for signing up to CinemaBlend. You will receive a verification email shortly.
There was a problem. Please refresh the page and try again.