New DVD Releases: When To Buy The Latest Movies In August 2016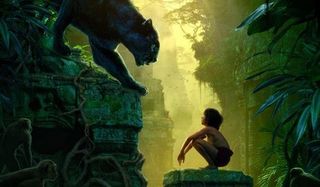 We hope you are excited about movies this month, because there are a slew of new releases that should be worth at least a watch, and may even earn a coveted spot on your shelf. If you like movies about gymnastics, cats, moms, pissed off birds, fairytale characters or even assisted suicide, we've got your covered. Oh yeah, and Disney's new live action The Jungle Book is making its big debut and there are more TV Blu-ray and DVD sets than I really want to attempt to sum up in a sentence. Instead, you can check out this month's releases, below.
In addition, if you are looking for the July releases, head here. Unless otherwise noted, Digital releases are the same week as Blu-ray and DVDs.
The Bronze Blu-ray Review
Melissa Rauch is a really funny lady. Most people know her as Bernadette on The Big Bang Theory, but in Bryan Buckley's The Bronze, she's nothing like the high-pitched petite lady she plays on network TV. In fact, for most of the movie, Hope Ann Greggory (Rauch) is a lean, not-so-nice former gymnast who hasn't done much in her life in the time since winning a bronze metal at the Olympics. When she is given a chance to train a hotshot young gymnast Maggie (Haley Lu Richardson), she has to be cajoled into it via a promise of money, but while Hope seems a bit unlikable at first, the movie has more of a feel-good comedy angle nearer the end. Thomas Middleditch and Sebastian Stan also star in the flick, which comes to us courtesy of Sony Pictures Home Entertainment. The easy-to-watch little comedy doesn't come with a ton of extras, but deleted scenes are included. As The Big Bang Theory continues to age, Melissa Rauch is certainly one to watch. You can order your own copy of The Bronze, here. (opens in new tab)
Keanu Blu-ray Review
Jordan Peele and Keegan-Michael Key might not be producing new TV for Comedy Central anymore, but that doesn't mean they've stopped doing projects altogether. In fact, they've moved on to the big screen for Keanu, an action adventure comedy about two men and a cat. After breaking up with his girlfriend, Rell (Jordan Peele) comes into possession of an adorable kitten named Keanu. But when the kitten is stolen, Rell and his partner Clarence are sucked into an underworld of drug dealing and other gangster activity. Warner Bros. Home Entertainment's flick is more action-oriented than comedic than one would expect, considering the movie was written by Peele and frequent TV writer Alex Rubens. The good news? there are enough HPV jokes and weird Blair Witch Project references to keep audiences amused throughout, and occasionally a few absurd plot moments that will keep you in stitches. (Anna Faris even cameos in one.) Extras on the Blu-ray disc are limited, but deleted scenes and the gag reel are worth a watch. You can order your own copy here. (opens in new tab) Digital copies have also been available since July 19.
August 2 Blu-ray and DVD Releases
Mother's Day
Batman: The Killing Joke
The Lobster
Meet The Blacks
Confirmation
High-Rise
Blindspot: The Complete First Season
The Knick: The Complete Second Season
The Girlfriend Experience Season 1
Viral
Careful What You Wish For
The Trust
Laser Team
Puerto Ricans In Paris
April and The Extraordinary World
Manhattan Night
Chosen DVD
Summer Camp DVD
Guernica DVD
Sniper: Ghost Shooter DVD
High Strung DVD
Louder Than Bombs DVD
The American Side DVD
Week of August 2 Early Digital Releases
The Huntsman: Winter's War
Reindeer Games: Director's Cut
Game of Thrones: The Complete Sixth Season (August 1)
Supergirl: The Complete First Season Blu-ray
Supergirl has only aired for one season so far, but it already has a pretty storied history. Interesting love interests and afew very big twists were introduced during the superhero drama's very first season on the air, and Supergirl has also already dealt with the challenge of hopping networks and moving its production to Vancouver for Season 2. While the show doubtless has challenges ahead of it, the first season capably sets up a world where Kara Danvers brings Supergirl out of the shadows and chooses to use her extraterrestrial abilities to save the world. Melissa Benoist's Supergirl has its detractors, but I've always loved the way she combines certain girlish (and sisterly) tendencies with a steely strength and resolve. Binge-watching the first season for a second time on the Blu-ray disc also made me appreciate Kara's relationship with her sister Alex (Chyler Leigh) and Cat Grant's (Calista Flockhart) quest to discover who the superheroine actually is a bit more. A lot of the extras with Warner Bros. Home Entertainment's set are pretty expected, including the gag reel and deleted scenes, although I like that the latter could be accessed in a couple of different places. I also enjoyed "A World Left Behind," which looked more into why Krypton was portrayed the way it was during the firs season. Comic-Con footage is also available, although you can view that footage online too. If all of this seems right up your alley, you can order you own copy of Supergirl: The Complete First Season with an added Digital copy, here. (opens in new tab)
August 9 Blu-ray and DVD Releases
11.22.63
A Hologram For The King
Halt And Catch Fire: The Complete Second Season DVD
Code Black: Season 1 DVD
NCIS: New Orleans The Second Season DVD
The Tiger
Last Days In The Desert DVD
Week of August 9 Early Digital Releases
The Nice Guys
The Angry Birds Movie Blu-ray
There are some animated movies that are made for kids but work nearly just as well for adult audiences. Then there are kids movies like The Angry Birds Movie, a fun and entertaining flick about four birds who meet in anger management class: Red (Jason Sudeikis), Chuck (Josh Gad), Bomb (Danny McBride) and Terence (Sean Penn). The four birds are around when some pigs show up on an island, but Red is suspicious of their motives, and rightfully so. It's a silly bit of escapism, but is remarkably watchable for something based on a game with a super simple premise. Like the flick itself, Sony Pictures Home Entertainment's set is also geared to the kids. The menu page is extremely simple to use and 4 "Hatchling Shorts" are also available with the Blu-ray disc. There's also a dancing extra and another that shows your kids how to make you own Angry Birds DIY project, if they are feeling crafty. These extras might even hold your kids' attention for a few minutes after the movies runtime, which is a feat. Plus, a DVD and Digital copy is also included. Order your own copy for the home, here. (opens in new tab)
August 16 Blu-ray and DVD Releases
Gotham: The Complete Second Season
The Angry Birds Movie
God's Not Dead 2
The Affair: Season 2 DVD
Hell on Wheels: Season 5
Once Upon A Time: Season 5
The Vampire Diaries: The Complete Seventh Season
Week of August 16 Early Digital Releases
Money Monster
Love & Friendship
Popstar
A Bigger Splash (August 19)
_Looking _(August 22)
Castle: The Complete Eighth Season DVD Review
As far as ABC's sets go, gone are the days when we got cool 3D covers and intricate Blu-ray sets, but since Castle only recently ended on the network, we were hoping for some nice retrospectives and goodbye messages from the cast. Unfortunately---and probably because Castle was so abruptly cancelled---the Castle: The Complete Eighth Season set is missing all of those things. Still, fans can relive the feel-good ending of the series on this DVD set and Castle as a whole is a show that looks good in Standard Definition. Plus, there are a few bells and whistles in the form of deleted scenes and audio commentary---but not for the finale---that may be worth a watch to those who loved and stuck with the ABC drama for eight years. I wish that Castle had been given a more retrospective set for its ending, but because ABC wanted to churn this out quickly and feelings may have been hurt after the cancellation, I see why this didn't happen. As it stands, at least all 22 final episodes of the series can be binge-watched to our heart's content. And at least Caskett got the ending that relationship deserved. Relive your favorite moments with the 5-disc DVD set, available here. (opens in new tab)
The Nice Guys Blu-ray Review
You should expect something likable from a movie starring Ryan Gosling and Russell Crowe. Throw in Shane Black, who wrote Lethal Weapon, and you know the script is going to be pretty solid. But Shane Black didn't just write The Nice Guys, he also directed it, and those efforts paid off. The Nice Guys is a really fun flick, and one of the biggest surprises of the summer. The plot of the part-thriller, part-comedy follows shady private detective Holland March (Gosling) and capable enforcer Jackson Healy (Crowe), who cross paths while looking into the death of a porn star named Misty Mountain---but quite frankly, her death may not be exactly what it seems. March's daughter, Holly (Angourie Rice), is the type of precocious kid who is more helpful than annoying and the rest of the cast is rounded out by some big names, including Yaya DeCosta, Matt Bomer, and more. Warner Bros. Home Entertainment's set isn't really big on the extras, only coming with a short "Making of" featurette and another that segment that gushes about Shane Black's work ethic, but that's not why you were buying this title, anyway. Order your own copy here. (opens in new tab)
DC's Legends Of Tomorrow: The Complete First Season Blu-ray Review
By now, many fans are gearing up for Legends of Tomorrow's second season, but if you missed the show during its first outing on the CW or are an Arrow or The Flash fan who hasn't given the network's third DC show a shot, this week it a good time to check it out---on glorious Blu-ray or Digital HD. Legends of Tomorrow starts Atom, White Canary and a slew of other heroes and heroines who have created TV's first network superhero team-up show. The first season, which has 16 episodes, mixes time travel and a bunch of different personalities; in short, it has something for everyone. While not the gritty drama Arrow has been or the light-hearted romp The Flash tries to be, Legends does have its own flavor and we hope the show continues to grow as it works through its growing pains and heads into Season 2. Warner Bros. Home Entertainment says the first season set comes with an hour of additional content, and there does seem to be quite a bit of that, here. The big extra is access to the 2015 Comic-Con panel if you weren't there/haven't found that on the Internet yet, but there are deleted scenes and a gag reel, as well. There's even an entire featurette devoted to Jonah Hex, because Warner Bros. totally understands what the fanbase wants. Order the Blu-ray here. (opens in new tab)
The Huntsman: Winter's War Blu-ray Review
The Huntsman: Winter's War is a big budget movie from Universal Studios that looks stunning, and it knows it by the proliferation of ways the film has been released. You can catch it on 4K Ultra HD, Blu-ray, DVD and On Demand starting today. We looked at the Blu-ray copy of the flick, and provided you liked the movie, this is one particularly nice set, coming with bonus features that touch on girl power, the visual spectacle---including one particularly fanciful extra on the costumes---and more. Still, it needs to be noted The Huntsman: Winter's War has been facing an uphill battle since the movie displaced Kristen Stewart and chose to focus on The Huntsman Eric (Chris Hemsworth), as well as sorceress Ravenna (Charlize Theron), her sister Freya (Emily Blunt) and a huntswoman named Sara (Jessica Chastain). Despite the stunning cast, Cedric Nicolas-Troyan's movie can be convoluted, although it maintains enough narrative threads that people should connect it with the first movie. If you did like the flick, you can order it here. (opens in new tab)
August 23 Blu-ray and DVD Releases
The Nice Guys
Elementary: The Fourth Season DVD
The Walking Dead: The Complete Sixth Season (opens in new tab)
The Huntsman: Winter's War
DC's Legends of Tomorrow: The Complete First Season
Ash vs Evil Dead: The Complete First Season
Castle: The Complete Eighth and Final Season DVD
Lucifer: The Complete First Season
Clown
DC Superhero Girls: Hero Of The Year
Narcos: Season One
Sunset Song DVD
NCIS: The Thirteenth Season
Maggie's Plan
Ratchet & Clank
Week of August 23 Early Digital Releases
The Jungle Book
The Jungle Book Blu-ray Review
The Jungle Book is a feat of motion capture and animation, set in a magical world where animals talk and a very young boy is hoping to find his place. Jon Favreau's vivid movie is much darker than the original animated Disney classic, but no less watchable. The cast, too, is also top notch, with Idris Elba playing on the iconic Shere Khan, Bill Murray taking on the role of Baloo, Ben Kingsley playing Bagheera, Scarlett Johansson taking on a female version of Kaa and Christopher Walken playing King Louie. Christopher Walken, Lupita Nyong'o and newcomer Neel Sethi round out the incredible ensemble cast, which follows Mowgli running from Shere Khan through various terrains. Walt Disney Home Entertainment's set is beautiful, too, with a carefully designed menu screen and a slew of bonus features. These are more for the Disney adults who loved the film than the kids, however. "The Jungle Book Reimagined" goes into detail about how Jon Favreau got involved with the project---it was pitched to him---and even looks at the musical score and how the movie was made, which essentially included a lot of post-production work first. All of the bonus features are super-informative like that, but they will be a snooze for kids. On the bright side, the whole family can enjoy the flick. You can order your own copy here.
Me Before You Blu-ray Review
Emilia Clarke and Sam Claflin are often the highlights of the projects they have appeared in, and they got the chance to take on lead roles in the messy romantic film Me Before You, which was directed by Thea Sharrock. The film is not your traditional romance, and it needs to be consumed with a box of tissues rather than the usual ice cream. It's main premise---about a paralyzed man and his youthful caretaker---also is not without controversy, as it tackles a lot of ideas about humanity and life that may . Despite how you may feel about the general premise, Sharrock's movie is a joy to watch, filled with life and two likable leads that will pull you into the movie and help you to invest in the unconventional story. If you haven't given You Before Me a watch yet, it's an unexpected gem of a movie, and Warner Bros. Home Entertainment's set won't cost you an arm or a leg on DVD, Blu-ray and Digital. You can order the bestselling film on Amazon.
August 30 Blu-ray and DVD Releases
The Jungle Book
Arrow: Season 4
Criminal Minds: Season 11 DVD
Chicago Fire: Season Four
Chicago Med: Season One
The Night Manager
Star Wars Rebels: The Complete Season 2
Grey's Anatomy: Complete Twelfth Season
NCIS: Los Angeles-- Season 7 DVD