XXX 3: What We Know So Far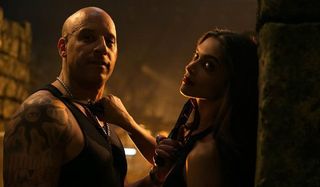 The early 2000s represented an interesting era in the world of cinema. Franchises like Fast & Furious were satisfying audience's desire to see fast paced, thrilling action on the silver screen, but major reboots such as Christopher Nolan's Batman Begins and Martin Campbell's Casino Royale hadn't brought the action genre back down to a realistic level. These factors inevitably coalesced in 2003 when director Rob Cohen brought audiences one of the most unique on screen secret agents in recent memory: extreme sports icon turned government operative Xander Cage a.k.a xXx. Although the xXx franchise has remained on ice for over a decade, we know that Vin Diesel will once again don his tattoos in 2017 for xXx 3, officially titled xXx: The Return of Xander Cage.
xXx: The Return of Xander Cage has been rumored for the better part of the last decade, but the project only recently got off the ground and began its long awaited production. Under the direction of D.J. Caruso, The Return of Xander Cage will seemingly dust off the old "Bond Killer" and repackage Xander Cage's rough around the edges attitude for a new generation of fans. Although we haven't seen much of the upcoming spy sequel, we here at CinemaBlend have compiled quite a bit of behind the scenes information about the project. With that in mind, let's get started:
What Is The xXx 3 Rating?
xXx: The Return of Xander Cage has yet to receive a classification from the Motion Picture Association of America, but looking at the history of the franchise we can likely assume that it will receive a PG-13 rating. The xXx series has developed a reputation for not skimping on dangerous stunts blended with violent action, but it also has never really shied away from sexual situations, portrayal of drugs and alcohol, foul language, or any other thematic elements. While this is a series about criminals who become secret agents, the studio is still interested in getting as many people into the theater as possible, and that includes any action-minded young teens.
What Is The xXx 3 Release Date?
As incredible as it is to consider, xXx: The Return of Xander cage will hit theaters a full 15 years after the titular extreme athlete turned super spy graced our screens, and 12 years after we last saw anything from the series. As of now, the film is slated to hit theaters on January 20, 2017, a little under a year from now. Although a January release date typically doesn't bode well for a movie, it's worth remembering that two of the best action films in recent memory -- Kingsman: The Secret Service and Deadpool -- both hit theaters in February of their respective years. We generally regard summer as the time when major blockbusters get released, but clearly a solid action thriller can still perform well during winter.
What Is xXx 3 About?
Previously, all we knew about the actual plot of the upcoming xXx: The Return of Xander Cage was what we had been able to glean from the official film synopsis on IMDB. With the release of two trailers now, though, we know that the titular hero will come out of his self-imposed retirement in order to deal with an equally extreme alpha male super spy as they both race to get their hands on a weapon called Pandora's Box. During the movie, Cage will realize that there's a massive conspiracy at the top levels of several international governments working against him and his team. This seems to indicate that while the film will most certainly return the series to its roots by centering on the extreme athlete turned government operative, it also won't ignore the events of xXx: State of the Union, which hit theaters without Vin Diesel in 2005.
When Diesel opted not to reprise his role as Xander Cage, the filmmakers brought in Ice Cube as agent Darius Stone to replace him. The Return of Xander Cage will, evidently, give the xXx division of the NSA a new, deadly mission, but take time to retcon the death of Cage in the sequel to be a fake-out. Unconfirmed rumors have swirled pointing to the possibility of Ice Cube's Darius Stone making an appearance at some point. Although Ice Cube seems to have shot those rumors down, it would make sense considering the ensemble oriented nature of the upcoming sequel's cast.
What Have We Seen From xXx 3?
There have been two trailers released for xXx: The Return of Xander Cage so far, and you can watch the most recent one above. In it, Xander Cage solidifies his commitment to "the good, the extreme and the completely insane" by doing things like skiing off of towers into snow-less jungles and skateboarding off the side of a moving bus, so you know we'll be in for another wild ride with this movie.
Who Is The xXx 3 Director?
The xXx series has never managed to attract the most prestigious members of the directing community. xXx started off on solid enough ground with Rob Cohen behind the camera; although his ability to tell a story has historically proven hit or miss, he was hot off the success of The Fast and the Furious, and we will not deny his ability to craft an action sequence. xXx: State of the Union objectively traded down for Lee Tamahori, a man perhaps known best for derailing the James Bond franchise with Die Another Day in 2002.
However, 2017's xXx: The Return of Xander Cage seems to have found one of the franchise's best directors yet in the form of D.J. Caruso. Although not exactly known for his direction action films, Caruso has made a name for himself with some solid thrillers over the years, such as Disturbia and Taking Lives. He won't back down from making the next xXx a visual spectacle, as we know that the film will also be shot in 3D. With that in mind, we can likely expect the next installment in the xXx franchise to have unprecedented levels of suspense and thrills when it finally hits theaters.
Vin Diesel – Xander Cage
As you probably guessed, xXx: The Return of Xander Cage will depict the return of the franchise's first hero to the NSA's xXx program. When we last saw his character he had decided to take a much needed vacation to Bora Bora with Asia Argento's Yelena; although seemingly killed off screen during the last xXx, the anti-James Bond will soon return to the fray in order to lead a rag tag team of crooks turned spies.
In many ways Vin Diesel represents one of the last members of the "old guard" of action heroes. The muscle-bound, slick-scalped action hero has experienced something of a career resurgence in recent years, racking up more than respectable critical and commercial responses to his performances in the Riddick franchise, Marvel's Guardians of the Galaxy, and – perhaps most notably – in the Fast & Furious franchise as his best known anti-hero character, Dom Toretto.
Samuel L. Jackson -- Augustus Gibbons
The major through line of the xXx franchise, Samuel L. Jackson's Augustus Gibbons premiered during the first xXx film as Xander Cage's NSA handler, and went on to develop an even bigger role in xXx: State of the Union by actually fighting alongside Ice Cube's Darius Stone. Jackson's return to the series makes a great deal of sense, as he's the primary connective tissue between the films in the franchise, but the extent of his role in the coming sequel seems to be pretty small. As he described his experience on the new movie in a conversation with Collider,
During a recent Facebook post by series star Vin Diesel, the 67-year-old actor made a crack that he only signed on to the xXx sequel in order to take back his honor as highest grossing actor of all time from Harrison Ford. It was a joke, but he clearly has faith in The Return of Xander Cage to turn a profit, and didn't mind taking on a smaller role than before to be a part of it.
Nina Dobrev - Becky
Although we haven't seen much of her character in action, her role in the film has been classified as the tech genius for Xander Cage's crack team of secret agents as a character simply named Rebecca, a.k.a., Becky. With her skills in computers, we can likely assume that she will play a role similar to that of Ludacris' Tej in Vin Diesel's Fast & Furious franchise.
The last few years have seemingly been nothing but good to actress Nina Dobrev. Following her big break as Mia on Degrassi: The Next Generation, and her beloved portrayal of Elena Gilbert on The CW's The Vampire Diaries, Dobrev has since made a fairly successful jump to the silver screen. With appearances in major motion pictures such as The Perks of Being a Wallflower and Let's Be Cops under her belt, she's now ready to take on the action genre with xXx: The Return of Xander Cage.
Ruby Rose – Adele Wolff
Like most newcomers to the xXx franchise, not much has been made of her role in the upcoming sequel, but we do know that she will portray a crack sniper for Xander Cage's team named Adele Wolff. With a rifle slung over her shoulder, and a badass name, we can expect Ms. Wolff to rack up quite the body count.
A newcomer who has had a big cultural impact in an incredibly short period of time, just about anyone with a Netflix account will instantly recognize Ruby Rose from her role as Stella Carlin on the hit series Orange is the New Black. Rose's badass overall appearance has garnered her ample attention from all corners of the action genre recently, as it has also been revealed that she will have roles in highly anticipated action movies such as Resident Evil: The Final Chapter, and John Wick: Chapter 2 in addition to her part in xXx: The Return of Xander Cage.
Deepika Padukone – Serena Unger
Indian actress/model Deepika Padukone has also joined the cast of xXx: The Return of Xander Cage as a character named Serena Unger. Her character has been referred to as a "huntress" of sorts, and has a former romantic entanglement with the Xander Cage. It's unclear if that romantic entanglement will make her a love interest, or femme fatale, but it's obvious from what we've seen of the film thus far that she will likely share quite a bit of screen time with Vin Diesel.
Of all the women headlining xXx: The Return of Xander Cage, Deepika Padukone will likely seem the least familiar to American audiences. However, she's developed an immense following overseas in the world of Bollywood, and has since endeavored to make the jump to western films.
Donnie Yen – Xiang
Chinese action star Donnie Yen has joined xXx: The Return of Xander Cage as a villainous character known only as Xiang. The franchise has included a diverse stable of villains in the past, ranging from Marton Csokas' anarchist Yorgi in the original film, to Willem Dafoe's corrupt General George Deckert in State of the Union. Considering Yen's aptitude for martial arts, we can likely expect his take on Xiang to represent a major physical threat for Cage and his team.
However, Donnie Yen was not the original actor cast to portray the villain in xXx 3. Original reports had indicated that action powerhouse Jet Li had initially taken on the role, but he subsequently dropped out of the project, paving the way for Yen to replace him.
Toni Collette
Rounding out the cast of xXx: The Return of Xander Cage is none other than actress Toni Collette. Very few details have come forward regarding the nature of her character, but rumors seem to indicate her portraying some sort of high-powered spy master in the same vain as Joan Allen's beloved character Pamela Landy from Paul Greengrass' Bourne movies.
The casting of Toni Collette in a xXx film comes as something of a surprise to many of us. Despite her prolific resume, she's perhaps best known for her work in relatively low-budget indie films with strong chops in the comedy and drama genres. Her work on the upcoming xXx sequel will really represent one of her first major forays into the world of action. Needless to say, we're incredibly excited to see what she brings to the table.
Well, that's everything we know so far about xXx: The Return of Xander Cage. Be sure to check back here for updates on the film as they become available.
Your Daily Blend of Entertainment News
Originally from Connecticut, Conner grew up in San Diego and graduated from Chapman University in 2014. He now lives in Los Angeles working in and around the entertainment industry and can mostly be found binging horror movies and chugging coffee.