Why Bryan Cranston Wants To Play Mister Sinister So Bad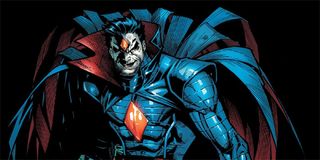 The comic book movie genre is nothing new. By now plenty of stories have been told, and plenty of characters have been depicted on the silver screen. However, there's still a wide array of legendary characters that have never appeared in a movie before. One such character that has never shown up in a movie is Marvel's Mister Sinister, and Bryan Cranston wants to play him for that very reason. Cranston elaborated:
During a recent interview on Kevin Smith's Geeking Out, Bryan Cranston was asked to come up with a specific villainous role that he would love to tackle as an actor. After a brief moment to ponder the question, he responded that he would like to play X-Men's Mister Sinister because the character has no silver screen legacy to speak of. Although plenty of fans have clamored for the Breaking Bad star to take on more established roles like Lex Luthor or Commissioner Gordon over the years, Mister Sinister presents an intriguing opportunity because it would allow him to put his own unique stamp on the character.
For those of you out there that don't speak nerd fluently, allow us to get you up to speed regarding the exact nature of Marvel's Mister Sinister. Real name Nathaniel Essex, Mister Sinister is a genetically altered scientist from the 19th century who mastered control of his body on a cellular level. He's an expert manipulator behind the scenes, and he's even responsible for the conception of Cyclops and Jean Grey's son, Nathan Summers, a.k.a Cable. To put it bluntly: he's a big deal in the X-Men universe.
If Bryan Cranston has an earnest desire to take on the role of Mister Sinister, there has arguably never been a better time for 20th Century Fox to make that happen. Although the character has not received any sort of proper introduction in the X-Men film universe, the post-credits sequence of the recent X-Men: Apocalypse teased his imminent debut with a briefcase labeled "Essex Corp." It's also already been established that Cable will debut in Deadpool 2, so casting Cranston as Sinister could allow 20th Century Fox to further bridge the convoluted X-Men timeline.
Do you think Bryan Cranston would make a good Mister Sinister, or is there another comic book character that he's better suited for? Let us know what you think in the comments section below. No matter what, it's clear that the X-Men universe is moving towards Mister Sinister as a central villain. Cranston's an amazing choice, but we will have to wait and see who officially gets the role.
Your Daily Blend of Entertainment News
Originally from Connecticut, Conner grew up in San Diego and graduated from Chapman University in 2014. He now lives in Los Angeles working in and around the entertainment industry and can mostly be found binging horror movies and chugging coffee.