Thor And Loki Bringing A Mighty Hammer To Sick Kids Will Melt Your Marvel Heart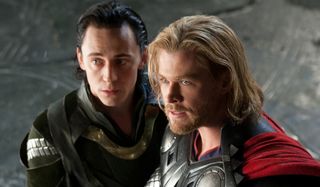 Sometimes, just sometimes, we get an instant, gratifying reminder that the world isn't such a dark, dank place after all. One such reminder came courtesy of the Marvel power couple that is Chris Hemsworth and Tom Hiddleston, who recently put aside their differences as Thor and Loki, respectively, to visit a children's hospital in Brisbane and immediately brought all of the feels.
Chris Hemsworth and Tom Hiddleston donned their costumes and wigs, while Hemsworth even brought out Thor's hammer Mjolnir, and immediately brightened the days of some of the bravest human beings to ever grace the planet Earth.
The two actors, who are currently shooting Thor: Ragnarok in the Queensland capital, reportedly visited around 80 children and their families at Brisbane's Lady Cilento Children's Hospital over several hours. They happily posed for photos and chatted with everyone they came into contact with during their stay:
While a brother and a sister even proved that they had more strength than Captain America, Iron Man, Bruce Banner, Hawkeye, and War Machine by actually being able to lift up Mjolnir, even though only a rare few are supposed to be able to wield the powerful weapon:
Tom Hiddleston and Chris Hemsworth were the second rather famous guests to visit Lady Cilento's over the last few weeks, as Taylor Swift, the singer-song writer who has become rather friendly with Hiddleston recently, popped in to the establishment back in July.
In fact, Hiddleston and Hemsworth copied Johnny Depp, who dressed up in full costume and make-up as Captain Jack Sparrow back in July 2015 during downtime filming Pirates Of The Caribbean: Dead Men Tell No Tales. While Depp told staff to keep his visit away from the press, photos later emerged of him in costume surrounded by the ecstatic children.
We'll finally get to see Pirates Of The Caribbean: Dead Men Tell No Tales when it's released on May 26, 2017, while Thor: Ragnarok will follow on November 3, 2017.
Your Daily Blend of Entertainment News
Thank you for signing up to CinemaBlend. You will receive a verification email shortly.
There was a problem. Please refresh the page and try again.