Hundreds Of Twilight Props Are Up For Auction, And The Prices Are Insane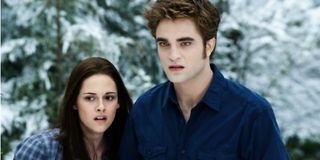 Plenty of moviegoers were touched by the antics of Bella Swan (Kristen Stewart) and Edward Cullen (Robert Pattinson) over the course of the Twilight film series. So much so that the five films from the franchise grossed over $3.3 billion. The opportunity has now arisen for die-hard fans of the Twilight saga to own a selection of props from each of these films. And when I say die-hard, I also mean preposterously rich, too, because the prices for these pieces of the set are astronomical.
You can peruse what is on offer by visiting the Twilight auction website, where you can either leave absentee bids prior to the auction, or you can put bids in real-time as it unfolds on November 19 and 20. Want to know what's available? Well, there's a handy interactive guide that shows you exactly what you could spend your hard-earned cash on.
Once you've leafed past all of the legal mumbo-jumbo regarding the proof of authenticity, it's revealed as early as page 7 that some of the props from the film are on quite the pricey side. Do you want Bella Swan's brown purse that she retrieved from Charlie's car in the original Twilight after arriving at Forks? Well that's going to set you back somewhere between $1,000 and $1,500.
In fact, Forks High School Spartans attire, everyday costumes that you could just as easily pick up from the Gap and no one would be the wiser, will also cost you from as much as $100 all the way up to $300. Meanwhile Bella Swan's homework binder, something that you could purchase from Wal-Mart, is estimated to go from anywhere between $600 and $800. Unless Kristen Stewart bit into it, then I think that should be labelled a rip-off.
Of course, there's some memorabilia that is actually worth spending your money on. Edward Cullen's crest cuff from the original Twilight will ultimately cost you at least $2,000. Meanwhile you'd have to go quite a bit out of your way to show off Edward Cullen's journal, which will cost you between $1,000 and $1,5000. And even if you did, you'd just sound like you're bragging about a piece of movie memorabilia that people outside of the Twilight universe won't care a jot about.
Edward Cullen's field trip, Bella Swan's cafeteria, and the pair's meadow attires are each available for around $2,000 - $3,000, just in case you're interested in recreating some of the most famous scenes from the original. And, if that's the case, you'll no doubt have to splurge on the final fight vest worn by Edward Cullen and Bella Swan's blood stained final fight outfit, which will set you back a combined total of around $3,500.
As you'd expect, there's some pretty creepy stuff available, too, such as the cast and leg brace worn by Bella and her hospital ID, while you can even get movie ticket stubs for Face Punch that Bella bought for Jacob, Mike, and herself in New Moon, which will set you back $300. If you're interested in them then, though, not only are you probably the biggest Twilight fan in the world, but you also quite literally have more money than sense.
Your Daily Blend of Entertainment News