The Avengers Directors Just Shared, Then Deleted, A Mysterious Behind The Scenes Image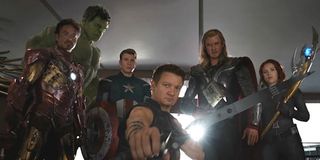 Although Avengers: Infinity War is still a long way off, our excitement for the next big Marvel team up has reached a fever pitch. Earth's mightiest heroes will face off against The Mad Titan, Thanos, and usher in Marvel's Phase 4 in grand fashion. However, a new behind the scenes photo from Infinity War suggests that Marvel's Phase 4 plans may be even bigger than we ever realized, and they may even involve bringing Doctor Doom into the fold. That's right; you read that correctly.
The Russo brothers made waves online recently by posting a brand new, behind the scenes photo from the set of Avengers: Infinity War - and then quickly deleting it. The photo (which you can see at Comicbookmovie.com) shows the two directors standing in the massive, arched hallway of a grand, stone castle. Although we've received no definitive confirmation about the true nature of this location, many have begun to theorize that it's actually a set depicting a portion of Latveria -- the home of legendary Marvel villain, Doctor Doom.
The implications of this potential revelation are absolutely insane. If Latveria is actually introduced during the events of Infinity War, then that means Marvel likely has long-term plans for Doctor Doom. This potentially signifies that Marvel Studios and 20th Century Fox have managed to come to an agreement to bring Doom back to Marvel. And if that's true, then the framework is in place to bring the Fantastic Four over to the Marvel Cinematic Universe, and possibly even the X-Men somewhere down the line.
It really doesn't seem too farfetched to imagine that Marvel struck some sort of deal to get Doctor Doom back. 20th Century Fox has consistently mishandled the character over the course of the last decade, and the legendary Marvel villain specifically factors in to the Infinity Gauntlet storyline in the comic book source material. In the long run, it wouldn't be surprising to see Doom take on the role of Marvel big bad once Thanos has been thoroughly vanquished.
Of course, we have to note the fact that this location may not actually turn out to be Latveria by the time Avengers: Infinity War actually hits theaters. The Marvel Cinematic Universe is already no stranger to incredibly exotic locations, and there's obviously plenty of evidence to support the notion that this is simply a part of an already established locale -- Asgard in particular comes to mind. That being said, the fact that the Russos deleted the photo seems like the most telling piece of evidence that this is a major new development for the future MCU. They wouldn't have to delete a photo of Asgard.
What do you think of this new photo? Do you think it could actually be an image from Latveria, or is it more likely a photo of an established location? Only time will tell, but we will definitely find out when Avengers: Infinity War hits theaters on May 4, 2018.
Your Daily Blend of Entertainment News
Originally from Connecticut, Conner grew up in San Diego and graduated from Chapman University in 2014. He now lives in Los Angeles working in and around the entertainment industry and can mostly be found binging horror movies and chugging coffee.