Harry Potter Cast: Then And Now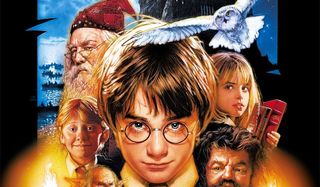 Fifteen years ago, Harry Potter and The Sorcerer's Stone brought the world of J.K. Rowling's most famous creation to life with brilliant detail. After almost becoming an animated film directed by Steven Spielberg, the live-action version of Rowling's Wizarding World was shepherded into creation by Home Alone director Chris Columbus. It was the beginning of the franchise's stratospheric rise, and it's what we're celebrating with the release of this week's Fantastic Beasts and Where To Find Them.
But what of the various cast members featured throughout the franchise? Where are they now? The answers may surprise you, as we're about to walk you through the last 15 years, and show you where all of your favorites have been since their time at Hogwarts. So don your cloaks, memorize the spell that displays this list as one page and join us as we take a look at the Harry Potter crew then and now.
Daniel Radcliffe
After a long search for the boy who would play the Boy Who Lived, Daniel Radcliffe landed his second film credit ever as Harry himself. Playing the role through all eight films, Radcliffe brought himself into the limelight with his evolving performance and skills. By time the series was over, he had also landed roles in TV movies like My Boy Jack and indie darlings like December Boys. Post-Potter, Daniel Radcliffe has ran the gauntlet of stage and film, his most recent efforts being the limited run play Privacy and the film Imperium.
Rupert Grint
Beginning your career with Harry Potter and The Sorcerer's Stone is pretty daunting if you look at it a certain way. Thankfully, that wasn't the case with Rupert Grint, who went from planning on buying an ice cream truck after wrapping his tenure as Ron Weasley to a worthwhile acting career. After 10 years of playing Harry's best friend, and Hermione's eventual husband, Grint has found himself working stage and screen as well, with roles in shows like "It's Only A Play," films such as Moonwalkers, and his most current TV gigs on the series Sick Note and Snatch.
Emma Watson
Much like her on-screen love interest, Emma Watson made her debut in the film world in Harry Potter and the Sorcerer's Stone, playing the role of the extremely smart and just as clever witch, Hermione Granger. Over a decade after such an auspicious start, Watson continues to act, with her turn as Belle in Disney's Beauty and the Beast remake coming to theaters next March. On top of her work in entertainment, she served as a UN Women Goodwill Ambassador, but she's also been known to hide feminist literature on various systems of rail transport.
Tom Felton
Every hero needs a villain, and Draco Malfoy was more than happy to provide that service to Harry and the rest of the wizarding world. And without Tom Felton's spot on performance, the victories of our heroes wouldn't have been as sweet. It's a skill that's brought Felton a lot of good fortune, both throughout the Harry Potter franchise, as well as various projects like Rise of the Planet of the Apes and The CW's The Flash.
Matthew Lewis
If you want to talk about a "duckling to swan" transformation, then Matthew Lewis is a good place to start. Who would have known that the pudgy kid from Harry Potter and The Sorcerer's Stone would turn into the stone cold heartthrob that technically saved the day in Harry Potter and The Deathly Hallows. With a good five years of TV work under his belt, Lewis gained a film career's worth of experience as Neville Longbottom, friend to all and a stickler to rules. More recently, he's been see in shows like Happy Valley and Ripper Street, and was most recently in the film Me Before You.
Bonnie Wright
While she was only starting out in a bit part in Harry Potter and the Sorcerer's Stone, Bonnie Wright eventually became a very important part of the Harry Potter series, as Ginny Weasley went from younger sister of Ron to the love of Harry Potter's life. Wright played the role throughout the entire run of the series, straight through to The Deathly Hallows' two parts. After the final entries in the series, Bonnie Wright has continued to be active in the film industry, as an actor, writer and director.
Alfred Enoch
If it wasn't for Dean Thomas, Harry Potter would have never had a romantic rival for Ginny Weasley's affection. Though it wasn't always that way, as Dean Thomas initially started out as one of the assorted Gryffindors in the background of Harry Potter and the Sorcerer's Stone, only to become a member of Dumbledore's Army, and Ginny's temporary boyfriend. How To Get Away With Murder fans probably recognize Enoch as the recently departed Wes, the recently revealed victim "under the sheet," but he's also played roles in Sherlock and Broadchurch.
Devon Murray
Here's a funny story: Devon Murray almost landed a role in Martin Scorsese's Gangs of New York. The reason he didn't is because he won the part of Seamus Finnigan in Harry Potter and the Sorcerer's Stone, which was probably better in the long run as he would feature throughout the rest of the series in that very role. After the Potter years, Murray's filmography hasn't really grown, but he's still very much active on Twitter.
Evanna Lynch
While a lot of young actors got their start on the Harry Potter series, not everyone started out at the beginning of the journey. A devoted fan of the books, Evanna Lynch made it her goal to play Luna Lovegood in Harry Potter and the Order of the Phoenix. Thankfully, she landed that dream role, and has not only remained active in projects outside of the Potter-verse, but also reprised the role of Luna in the parody film A Very Potter Senior Year.
Richard Harris/Michael Gambon
The part of Albus Dumbledore was always going to be an important one to cast. With legendary actor Richard Harris playing the role in Harry Potter and the Sorcerer's Stone, that mission was most definitely accomplished. Sadly, Harris passed away due to a battle with Hodgkin's Lymphoma, which required the role be recast. Following in Harris' footsteps was another acting legend, Michael Gambon. From Harry Potter and the Prisoner of Azkaban onward, Gambon played the pivotal role. Strangely enough, Gambon would later go on to star in another J.K. Rowling adaptation, in the HBO/BBC adaptation of The Casual Vacancy.
Maggie Smith
Another stage and screen legend in the Harry Potter canon, Maggie Smith came into the world of wizardry with plenty of experience in both acting and playing authority figures. Most would remember her as the Mother Superior who whipped Whoopi Goldberg into shape during Sister Act, before her time as the bad-assed Professor Minerva McGonagall. More recently, Smith has been seen in the successful Best Exotic Marigold Hotel series, as well as in her role of the Dowager Countess Violet Crawley on the recently wrapped Downton Abbey.
Alan Rickman
Before embodying the role of Professor Severus Snape, Alan Rickman was probably best known as either Hans Gruber, the baddie from Die Hard, or the Sheriff of Nottingham, the baddie from Robin Hood: Prince of Thieves. Of course, that all changed once Harry Potter and the Sorcerer's Stone brought a new icon for Rickman to embody. Sadly, Alan Rickman succumbed to pancreatic cancer earlier this year, with his final two roles being found in this year's Eye in the Sky and Alice Through The Looking Glass.
Warwick Davis
Probably the most consistent franchise player in the Harry Potter series, Warwick Davis started out as an Ewok in Return of the Jedi, only to go on to such iconic roles as the lead character in Willow and the Leprechaun series. So by time Davis landed his spot on the Hogwarts faculty as Professor Flitwick, he was already well versed in magic, both light and dark. After helping wrap the series, appearing throughout the entire series, Davis went on to play roles in films like Jack The Giant Slayer and shows like Doctor Who, as well as headlining his own HBO comedy series, Life's Too Short.
Your Daily Blend of Entertainment News
Senior Movies Contributor
CinemaBlend's James Bond (expert). Also versed in Large Scale Aggressors, time travel, and Guillermo del Toro. He fights for The User.
Your Daily Blend of Entertainment News
Thank you for signing up to CinemaBlend. You will receive a verification email shortly.
There was a problem. Please refresh the page and try again.