The Boba Fett Movie: Will It Ever Happen?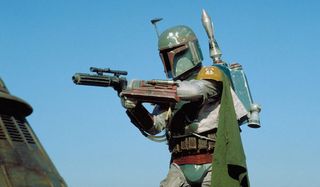 Despite his limited screen time, Boba Fett still remains one of the Star Wars franchise's most intriguing characters. Debuting in 1980's The Empire Strikes Back, the bounty hunter spoke few words, but his mere presence (and a few well-timed blaster shots) indicated he was someone to be feared. Three years later in Return of the Jedi, he saw a little more action, but he met a controversial end when he was accidentally knocked into the Sarlacc Pit. (He was also added into A New Hope's digitally re-mastered rerelease, but that was an uneventful cameo.) Then 2002's Attack of the Clones revealed Boba's background as Jango Fett's clone, but there's still a lot we don't know about him, at least in the main canon.
At one time, that was going to be somewhat rectified with a Boba Fett movie, one of the many new releases originally planned for the new era of Star Wars movies. Those plans have since fallen through, but there's still a chance it could be released someday. Here's the rundown on what's happened with the Boba Fett movie so far and whether it should even see the light of day.
It Almost Happened
When Disney and Lucasfilm were first planning the Anthology film lineup, Boba Fett was rumored to be one of the big releases. As we now know, it was supposed to be the second spinoff release instead of the young Han Solo movie. Fantastic Four director Josh Trank was hired to helm Boba Fett's solo adventure, and for a while, everything seemed to be peachy. Lucasfilm even had a teaser ready to show at Star Wars Celebration 2015. Then Trank exited the Boba Fett movie in May 2015, publicly citing that he made the "personal decision to move forward on a different path."
However, behind the scenes, it seemed that this wasn't a amicable split. One report stated that Josh Trank left due to creative differences, specifically with screenwriter Simon Kinberg, as the two of them apparently didn't get along while making Fantastic Four. Another report stated that Trank was dismissed after Lucasfilm learned of the director's alleged unusual behavior during the Fantastic Four shoot and decided they didn't want him in charge of this project. Whatever the reason for Trank's departure, the plans for the Boba Fett movie fell through, and the Han Solo movie was moved to that 2018 date instead. There's always the chance that the bounty hunter could pop up in the young smuggler's tale (they do have history after all), but as of now, nothing has been confirmed or even rumored on that front.
It's Still On The Radar
It's important to clarify that the Boba Fett movie isn't dead, i.e. Lucasfilm didn't decide to scrap it entirely. It's merely in carbon freeze. Currently, Disney and Lucasfilm have dates set aside for Star Wars movies until 2020, though you can be sure that more will follow in the next decade. While an Anthology movie is confirmed to be in that 2020 release date, it hasn't been publicly revealed what that movie will specifically be, only that a writer is attached.
That said, supposedly a Boba Fett movie is still on the table, though it's by no means the only spinoff up for consideration. An Obi-Wan Kenobi movie, with Ewan McGregor reprising the Jedi Master, has reportedly been discussed, and there are plenty of other directions Lucasfilm could go with that third spinoff, whether it's with long-established characters or new players, akin to Rogue One. So just because the Boba Fett movie still has a chance to be released, that doesn't mean it's a 100% guarantee, and it may be a while until we learn about its ultimate fate one way or the other.
Should It Happen?
There's no question that Boba Fett has an enormous fanbase thanks to his badassery in the Original Trilogy and stories from other media. Still, opinions will differ on whether he actually deserves his own movie. For one thing, one of Boba Fett's most appealing qualities is his mysteriousness. Even though Attack of the Clones revealed him to be a clone, there's still a lot we don't know about what he was up post-Revenge of the Sith to right before The Empire Strikes Back. On the one hand, seeing one of Boba Fett's adventures on the big screen, presumably one that helped solidify his notoriety, would be cool to watch. On the other hand, putting the counter hunter front and center might ruin his appeal. Maybe he's better served as a enigmatic character who's around, but we don't get to know too well.
Then there's the question of what the Boba Fett movie would be about. Back when the project was still in active development, it was reported that the project would take place sometime during the Original Trilogy, but many fans have expressed interest in the canon taking the Legends route and showing his adventures post-Return of the Jedi after escaping the Sarlacc Pit. While the latter approach presents opportunities to tie Boba Fett into the "present day" Star Wars stories, i.e. around The Force Awakens period, the former, as mentioned earlier, would shed more light on how he became one of the galaxy's most feared bounty hunters.
Personally, I believe there are more pros than cons with releasing a Boba Fett movie, regardless of when it's set (though I would love to see him escape his slow and painful demise). His popularity guarantees that moviegoers, whether they're hardcore fans or casual viewers, would flock to theater to see him in the spotlight. Plus, since Boba Fett's work takes him to all corners of the galaxy, there are numerous kinds of stories that could be crafted around him. That being said, Lucasfilm would need to take special care to hire the right creative team to tackle this spinoff. They dodged a bullet with Josh Trank, but one significant misstep could potentially decrease the character's popularity significantly. That's one road we definitely don't want to travel down.
Do you think Disney and Lucasfilm should put the Boba Fett movie back on track or should they divert their attention elsewhere for that third Star Wars spinoff? Let us know what you think in the comments below.
Connoisseur of Marvel, DC, Star Wars, John Wick, MonsterVerse and Doctor Who lore. He's aware he looks like Harry Potter and Clark Kent.
Your Daily Blend of Entertainment News
Thank you for signing up to CinemaBlend. You will receive a verification email shortly.
There was a problem. Please refresh the page and try again.