The Office Christmas Party Scene That Nearly Hospitalized T.J. Miller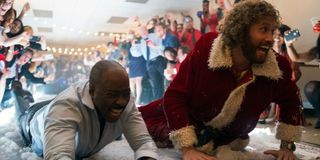 Office Christmas Party is a film where bad things happen. Want two people using enflamed Christmas trees as jousts? You got it. A man renting a real baby for a nativity? Sure. There's also the requisite amount of drunken, drugged-up, nude antics that you'd expect from such a soiree, all of which has been turned up to the nth degree. But it turns out that filming some of these scenes was quite stressful and painful for its cavalcade of comedic actors. In fact, Office Christmas Party's T.J. Miller revealed to me that he needed a little medical attention because of how much effort he put into one scene.
T.J. Miller made this admission to me, after a little persuasion from his co-star Courtney B. Vance, when I sat down to talk to the duo about Office Christmas Party over the weekend. During our chat Courtney B. Vance reminded T.J. Miller of his minor brush with death, which then led the comedian to fully divulge the details. T.J. Miller recalled,
The scene in question sees T.J. Miller's Clay Vanstone, the head of the Chicago branch of Zenotek that is being threatened with closure, rapping particularly vociferously with a recently intoxicated Walter (Courtney B. Vance), whose company could save the office. In order to convince Walter to sign on the dotted line, Chicago's Zenotek office decides to embrace their old school ways by throwing one hell of Christmas shindig.
As the party gets more and more out of hand T.J. Miller and Walter find themselves up on stage rapping and dancing for the huge crowd of people, which dwarfs the amount of people that actually work at Zenotek. As you'd expect things soon get even further out of hand. You can get a taste of the debaucherous antics that make up Office Christmas Party by watching the trailer below.
Meanwhile you can also check out a snippet from my interview with both T.J. Miller and Courtney B. Vance about Office Christmas Party by clicking the video underneath, too. They're both rather delightful gentlemen.
Office Christmas Party will finally be with audiences from tomorrow.