Power Rangers Poster Reveals The Zords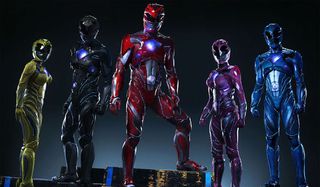 When the first trailer for Power Rangers was released back in October, the footage mostly focused on the cast and camaraderie of the film, teasing the circumstances that brings the ensemble together. Some diehard Power Rangers fans were disappointed that they didn't get a glimpse at the Zords that the titular group will use to fight Rita Repulsa (Elizabeth Banks) in the blockbuster. But now they can dry their tears, because the Zords are here and they look absolutely superb. You can have your first sneaky peak at Power Rangers' Zords below.
The Zords look like pretty sweet rides, which also have more than a passing resemblance to the likes of Optimus Prime and Bumblebee from the Transformers films- a franchise that is clearly an inspiration to director Dean Isrealite and the Power Rangers team. The pesky mist in the above picture unfortunately blocks our view of all of the Zords, though. Except for the Yellow Ranger's war machine, as we're given a clear snippet of Trini Kwan (Becky G)'s Saber-Toothed Tiger Zord.
While Power Rangers is the third film based on the hugely popular live-action superhero TV series, it is rebooting and reimagining the characters and setting for a modern audience. Power Rangers revolves around five troubled teenage students that are randomly provided with a variety of superhero abilities, as well as an arsenal of weapons and some pretty sweet suits to fight with.
When Jason (Dacre Montgomery), Kimberly (Naomi Scott), Billy (RJ Cyler), Trini (Becky G), and Zack (Ludi Lin) then learn that their home town of Angel Grove and the world itself is under threat from Rita Repulsa and her gaggle of alien forces, they must use their newfound talents to fight back. You can get a taste of what's in store for audiences when Power Rangers is released at the start of next year by watching its debut trailer below.
While the debut trailer for Power Rangers clearly has a more contemporary slant on its leading quintet, each of which seem more dark and troubled than their previous incarnations, the above footage also makes the film look like a fun and action-packed adventure. And that's without giving us a peak at Bryan Cranston's Zordon, Rita Repulsa in full swing, or Bill Hader's Alpha 5- the robot assistant to Zordon.
Old school Power Rangers fans couldn't help but reveal their disappointment at just how different the reimagining looks to the original series, though. We'll get to see if Power Rangers can win back their affection when it's finally released on March 24, 2017.
Your Daily Blend of Entertainment News
Thank you for signing up to CinemaBlend. You will receive a verification email shortly.
There was a problem. Please refresh the page and try again.