Lord Of The Rings, Harry Potter And Other Great Movie Marathons Airing On New Year's Eve Weekend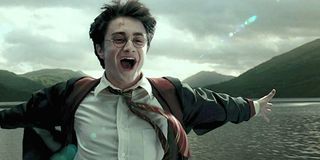 For a lot of people, this has been a long year, and we're finally saying goodbye to 2016 to welcome in 2017.The new year will bring many exciting new movies with it, so let's celebrate the holiday with some epic movie marathons. Plenty of networks are going out with a bang with huge franchise-length marathons, and we've collected some of the best right here for you. Check out the dates and times for some of these below to plan your schedule accordingly.
Harry Potter Franchise, Freeform
It wouldn't be a holiday weekend (or any given weekend, for that matter) if Freeform wasn't airing a Harry Potter marathon. Freeform will be showing every single Harry Potter film over the course of the weekend. It all starts on Saturday, Dec. 31 with Harry Potter and the Sorcerer's Stone at 7 a.m. EST. There will be repeat showings for each film, but the marathon officially ends on Monday, Jan. 2 at 5 p.m. with Harry Potter and the Deathly Hallows Part II.
Ghostbusters, BBC America
BBC America will be running a marathon of Ghostbusters all afternoon, though it's without the recent Ghostbusters film that didn't perform so hot over the summer. Ghostbusters and Ghostbusters 2 will be playing all afternoon starting on Saturday, Dec. 31, at 1:30 p.m. and running until 11:30 p.m. EST.
The Fast And The Furious, Spike
Want to end 2016 with action, really fast cars and girl butts? You won't find a better place than Spike with its The Fast and the Furious marathon. The network will be playing the first five movies in the franchise, beginning on Sunday, Jan. 1 at 12 p.m with The Fast and The Furious and ending at 10 p.m. EST with Fast Five. The marathon will also air Monday, Jan. 2 from 9 a.m. to 7 p.m. EST.
The Lord Of The Rings, TNT
You could end the year by sitting on the couch literally the entire day by watching The Lord of the Rings marathon on TNT. For some reason, the network is forgoing The Lord of the Rings: Fellowship of the Ring and will instead air the second and third films in the fantasy franchise. Beginning on Saturday, Dec. 31 with limited commercials is The Lord of the Rings: The Two Towers at 4:22 p.m., followed by The Lord of the Rings: Return of the King at 8 p.m. EST.
The Hobbit, Also TNT
If Lord of the Rings wasn't enough for you, then TNT has you covered with another trip to Middle-Earth. The network is running the first two films in the Hobbit trilogy, beginning with The Hobbit: An Unexpected Journey on Sunday, Jan. 1 at 1:18 p.m., followed by The Hobbit: The Desolation of Smaug at 4:45 p.m. EST.
Tyler Perry Films, BET
You can always count on Tyler Perry for some entertaining and emotional fee- good films. BET will be running a Tyler Perry movie marathon for the holiday weekend. On Sunday, Jan. 1, the marathon will be mostly Madea-less and begins with Why Did I Get Married Too at 12:05 p.m.; Tyler Perry's Temptation: Confessions of a Marriage Counselor at 3:15 p.m.; Tyler Perry's I Can Do Bad All by Myself at 6:05 p.m.; and it all ends with a repeat showing of Why Did I Get Married Too at 9 p.m.
James Bond, Esquire
Send 2016 packing in style! Esquire will be holding a James Bond marathon, though it does come with a caveat depending on your Bond preferences -- they'll only be airing the Pierce Brosnan Bond movies. The marathon begins Monday, Jan 2. with GoldenEye at 7 p.m. followed by Tomorrow Never Dies at 9:30 p.m.; The World is Not Enough at 12 p.m.; and Die Another Day at 2:30 p.m. Then rinse and repeat with GoldenEye at 5:30 p.m.; Tomorrow Never Dies at 8 p.m.; and The World is Not Enough at 10:30 p.m.
Alfred Hitchcock, TCM
Finally, a treat for any film fan. TCM will be airing the classics of director Alfred Hitchcock for an epic movie lovers marathon. Running all day on Sunday, Jan.1 from 6 a.m. to 10:15 p.m. EST, you'll be able to see such classics including, but not limited to, Strangers on a Train, Psycho, Marnie, The Birds, Rear Window and Vertigo. 24 hours of suspense if there ever was one.
Matt has lived in New Jersey his entire life, but commutes every day to New York City. He graduated from Rowan University and loves Marvel, Nintendo, and going on long hikes and then greatly wishing he was back indoors. Matt has been covering the entertainment industry for over two years and will fight to his dying breath that Hulk and Black Widow make a good couple.