Wait, Meryl Streep Is In Edgar Wright's Baby Driver?!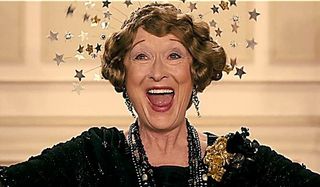 On Sunday night, Meryl Streep's truly astounding career was celebrated at the Golden Globes when she was presented with the Cecil B. DeMille Award. While most people were glued to their screens watching Meryl Streep accept the gong, Edgar Wright decided to take this opportunity to surprisingly reveal that the 19-time Oscar nominee was in his upcoming film Baby Driver. At least, that's what we THINK he was saying. The problem is, Edgar Wright soon deleted the Tweet. So either the director jumped the gun by making the revelation and was told to take it down. Or he was lying. You can check out proof of Edgar Wright's tweet below.
Edgar Wright's tweet was a little coy about Meryl Streep's involvement in Baby Driver. He said his "new" movie. We think that means Baby Driver, but it might mean something else. It could just mean that a scene from one of her plethora of fine films, or a scene from one of her few bad films, is in Baby Driver, or maybe her likeness is in there, or a weapon is named after her. We just don't know.
Baby Driver is an action crime heist thriller that revolves around the hugely talented getaway driver Baby (Ansel Elgort), who works for several different bank robbers. But when one of the robberies goes wrong, Baby finds himself in trouble. With Meryl Streep? Let's hope so, because Meryl Streep as a gangster boss on the war path would be just perfect.
It's not that Baby Driver's cast needed to be improved. As well as Ansel Elgort, Baby Driver's cast already included Lily James as Baby's girlfriend Deborah, Academy Award winner Jamie Foxx, Emmy Award winner Jon Hamm, two time Academy Award winner Kevin Spacey, while the ensemble was also packed out with Eiza Gonzalez, Jon Bernthal, and Sky Ferreira. Baby Driver is actually based upon Mint Royale's music video for Blue Song, which Wright directed back in 2003. You can check out the video, which British television fans will adore, below.
Maybe Meryl Streep jumped on-board of Baby Driver after being wowed by Edgar Wright's previous work, which has so far included Shaun Of The Dead, Hot Fuzz, and The World's End. It also very nearly included Ant-Man, too, because despite developing the project for several years with Marvel the decision was ultimately made by the studio to replace Wright with Peyton Reed. And while Ant-Man was enjoyable enough, fans of Wright couldn't help but watch it with a tinge of regret as they imagined what the bombastic and visceral filmmaker would have done.
But Ant-Man's loss will hopefully be Baby Driver's gain, though. We'll see if that's the case when Baby Driver is finally released into cinemas on August 11, while we'll hopefully get a trailer for the film in the next few weeks, too.
Your Daily Blend of Entertainment News
Your Daily Blend of Entertainment News
Thank you for signing up to CinemaBlend. You will receive a verification email shortly.
There was a problem. Please refresh the page and try again.