Justice League Team Photo: 5 Amazing Things We Just Noticed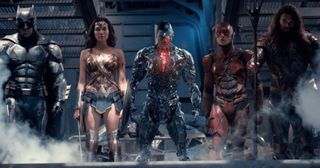 A ton of highly-anticipated comic book movies are slated to hit theaters over the course of 2017, but arguably no superhero adventure has become quite as big as Zack Snyder's Justice League. The long-awaited DC team-up represents a significant moment for the genre as a whole, and (whether it's good or not), its debut in theaters will mark a major moment for comic book movies as a whole. To put it in the simplest terms: we're insanely excited, and we have a feeling that you are too.
In order to maintain that excitement, Warner Bros. and DC Entertainment have just released a brand new Justice League image showing some of DC's most badass heroes standing together. Check it out here!
That photo is one of the coolest images to ever come out of the DCEU, and it's packed to the brim with wonderful details. We've gone through the photo pixel by pixel and picked out some of the coolest we think our worth taking a closer look at. With that in mind, let's kick this list off with the most obvious fact -- a notably absent member of the titular superhero team...
Superman Is Still Nowhere To Be Found
Despite the fact that several promotional images from Justice League have officially debuted over the course of the last few months, Henry Cavill's Superman remains decidedly absent from the film's marketing campaign. The character made a notable return from beyond the grave in one of the movie's first major pictures (which you can see above), but his newfound smirk has been kept at an arms distance from audiences ever since. Zack Snyder's superhero epic has offered no hints as to how the Last Son of Krypton will ultimately find himself resurrected, and the fact that he hasn't really appeared a central member of the team yet has us wondering how late into the movie this resurrection will take place. Batman has referred to Superman as the Justice League's "big gun" before, so all eyes are on Superman to be the third act ace in the hole.
Cyborg's Position In The Middle Is Important
The exact positioning of the Justice League heroes in this picture does not seem like an accident. Ray Fisher's Cyborg has remained relatively hidden from the film's promotional campaign thus far (likely because he is primarily CGI in the movie) and his position in the middle of these DC icons leads us to believe that he's fundamental to the Justice League narrative. We already know that he derives his powers from a Mother Box, and we also know that the Mother Boxes come from Apokolips -- the home of the villainous Steppenwolf and Darkseid. Although he's one of the youngest and most tragic members of this ensemble, the positioning of middle leads us to believe that he will play a significant role in the resolution of the film's conflict by using his cybernetic abilities to vanquish Steppenwolf and his army. He may even be the one to lead the charge. This certainly lines up with the source material, as the New 52's Justice League Vol. 1 framed the character in a similar manner.
Batman Received The Arkham Knight Treatment
Comparisons to Watchmen's Nite Owl aside, Ben Affleck's Batman looks ready for war in this picture. We've seen glimpses of Batman's new suit in other Justice League photos leading up to this new picture, but this image sells us on the idea that Batman has beefed up his arsenal to face off against an extraterrestrial enemy. The armor-plated suit harkens back to the Arkham Knight video game, and fans of that particular adventure will remember that Bruce Wayne's armored suit made him faster, more agile, and stronger against a much larger array of bad guys. The DCEU has never shied away from taking inspiration from the Arkham games -- look no further than the Batman V Superman warehouse fight-- so this suit will undoubtedly play a vital role in the upcoming team-up.
Making Aquaman Pacific Islander Was A Good Idea
Even if we put aside the fact that diversity is instrumental in the success of a major blockbuster, the decision to cast Jason Momoa as Arthur Curry a.k.a Aquaman has already paid off. Standing shoulder to shoulder with the other Justice League heroes, Momoa's Pacific Islander heritage helps sell the idea that he hails from an exotic culture indigenous to the sea, and this photo really hammers home how distinct he is from his other heroes. Not only does the behemoth actor look utterly menacing as the King of Atlantis, but also his Polynesian heritage simply feels like a perfect match for the DCEU's depiction of this iconic hero. Aquaman is fundamentally a tough character to adapt, and the white-skinned, blonde-haired version of the hero who swims around in scaly, orange tights would've never fit in with the darker tone of this silver screen DC universe.
The Flash's Suit Isn't Nearly As Bad As People Are Saying
We've seen images of Ezra Miller's Flash before (he even showed up during the events of Suicide Squad for a brief cameo), but this photo provides us with one of the clearest glimpses of the hero that we have seen yet. Miller's Barry Allen has been regularly torn apart by online critics who don't think that the armored suit looks good, but this image has us sold on it. Sure, it's not the softer, more fabric-like costume from the comics or the TV show, but it makes perfect sense within the context of the DCEU. The Flash is the fastest being on Earth, and he needs a suit that genuinely looks like it can withstand the forces and friction that he places upon it every time he runs; he's a human jet fighter. This suit may appear bulky, but it looks like it can actually protect Barry from real danger.
Your Daily Blend of Entertainment News
Originally from Connecticut, Conner grew up in San Diego and graduated from Chapman University in 2014. He now lives in Los Angeles working in and around the entertainment industry and can mostly be found binging horror movies and chugging coffee.
Your Daily Blend of Entertainment News
Thank you for signing up to CinemaBlend. You will receive a verification email shortly.
There was a problem. Please refresh the page and try again.