5 Ridiculous xXx Scenes You Need To See To Believe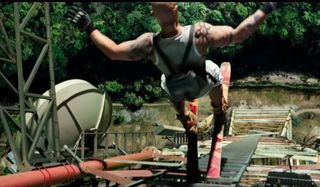 This weekend marks the return of Vin Diesel in the long hibernating xXx franchise. If you're looking for an over-the-top action spectacle, then xXx: The Return of Xander Cage is exactly the movie for you. The action sequences in the new film are the definition of extreme, which is to say that they are completely ridiculous and unbelievable. I mean that in the best possible way.
The xXx movies found their home in the ideas behind extreme sports. As such, many of the sequences in xXx: The Return of Xander Cage come out of these same concepts. This means that pretty much everything that happens in the new xXx is some degree of completely bonkers.
This may be obvious, but here's your spoiler warning, just in case. While we won't be focusing on any specific plot points, this will give away numerous details that will give context to the awesome sequences.
Dirt Skiing
xXx, as previously stated, is all about extreme sports, so it makes sense then that the first big action scene has Vin Diesel skiing down a mountain. It's not snow skiing, because the mountain has no snow, it's clearly spring or summer, but he skis none the less. He begins by jumping off a communications tower after stealing a piece of equipment from it. It's not clear how he climbed it while carrying skis, but this is hardly the time to try and make sense of things. Then, part of the way down the hill he grabs a set of ski poles which he apparently planted there prior to climbing the tower. Carrying the skis up there was no big deal, but apparently bringing the poles was where he drew the line.
Donnie Yen Gun-Fu
One of the main reasons to see xXx: The Return of Xander Cage is that it contains two of the greatest film martial artists to ever live. They do not disappoint, well, they could have done more with Tony Jaa. Donnie Yen, however, does not disappoint. Our first exposure to him has him breaking into a secret government facility and single-handedly taking down every poor bastard who gets in his way. It's a combination of a martial arts fight and a shootout, and in the hands of Donnie Yen the fight is absolutely seamless. He shifts between fighting with and without weapons in such a fluid motion it's simply a joy to watch.
Motorcycle Surfing
Because why not? Before this sequence gets to the insanity that is motorcycles that think they're jet skis, it opens with Vin Diesel using a motorcycle to beat people up. He pops it up on the front tire so he can swing the back tire around to crack somebody's skull. Then he gets to the chasing Donnie Yen part. When they run out of ground, Yen reaches down and hits a switch that turns his motorcycle into a sea craft. Where did it come from? How did Vin Diesel know he had stolen a bike that could also be a jet ski? How did he know how to activate jet ski mode? These are all questions you need to put out of your head now. They are not important.
Fighting In Traffic
Apparently having decided that the action sequences didn't run nearly enough risk of killing themselves, our crew of heroes and villains find themselves in a race to get to a particular location first. This includes Vin Diesel and Donnie Yen fighting it out with each other in the middle of speeding traffic. If you're wondering how they avoid getting hit by cars, they don't. If you're wondering how getting hit by cars going at speed doesn't break all of their bones, then you're thinking too much, please stop. We're assuming that some of the cars that go flying through killed a few innocent bystanders though.
Fighting In Zero-G
Finally, the climactic battle takes place on a cargo plane that is in freefall, giving everybody on board a feeling of weightlessness. Cut to Donnie Yen busting out some of the same gun-fu action from earlier in the film, but without that pesky gravity shit holding him down this time. Vin Diesel gets to do much of the same, while battling a soldier wearing special gloves that make his punches strong enough to kill (don't think about it). It's the perfect cherry on top of the insanity sundae dished up by xXx: The Return of Xander Cage.
Your Daily Blend of Entertainment News
Content Producer/Theme Park Beat
CinemaBlend's resident theme park junkie and amateur Disney historian. Armchair Imagineer. Epcot Stan. Future Club 33 Member.