Trolls 2 Is Happening, Here's When It's Coming Out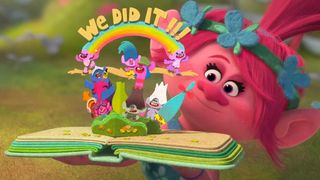 If there's one thing that we've learnt over the last few years it's that Hollywood loves an animated sequel. Last year Finding Dory grossed $1.028 billion at the box office 13 years after the release of Finding Nemo, while sequels to Zootopia and The Secret Life Of Pets were immediately greenlit after they grossed $1.023 billion and $875 million at the box office, respectively. So it should surprise no-one that another 2016 animation success, Trolls will be getting the sequel treatment, too.
Despite failing to come anywhere near the above numbers from its animated peers, Trolls still returned the healthy amount of $339.4 million from its $125 million budget. This was more than enough to convince Dreamworks Animation to put a sequel into production, especially after it was confirmed that both Anna Kendrick and Justin Timberlake will return for the follow-up, too. According to The Hollywood Reporter, rather than being released by 20TH Century Fox, which oversaw the distribution for Trolls, Trolls 2 has instead fallen into the hands of Universal, who clearly see plenty of room for financial reward from the lovable creatures.
Trolls was inspired by the hugely popular dolls from the 1960s, with the film revealing that these teeny tiny creatures live in a perpetual state of happiness that sees them singing, dancing, and hugging all day long. However when the Bergens, which are large creatures that are never happy, discover them they realize that they can get a fleeting moment of joy from eating a Troll. After avoiding the Bergens for 20 years, Princess Poppy (Anna Kendrick)'s loud party attracts their attention, leading to a number of Trolls being captured. Alongside Justin Timberlake's Branch, a paranoid and disgruntled Troll, she then sets out to save her pals.
As well as Anna Kendrick and Justin Timberlake, the vocal cast for Trolls included Zooey Deschanel, Russell Brand, James Corden, John Cleese, Christine Baranski, Jeffrey Tambor, and Gwen Stefani, while it was directed by Mike Mitchell (Shrek Forever After). You can check out the trailer for Trolls below.
While there's a chance that you might have missed Trolls when it was released, you almost certainly didn't escape Justin Timberlake's song Can't Stop The Feeling, which coincided with the film hitting cinemas and was that perfect mixture of annoying and catchy that meant it wouldn't leave your head for days at a time. So much so that Justin Timberlake was asked to open the Academy Awards on Sunday with it.
Trolls 2 will be with us on April 10, 2020, which was a date that Universal were previously saving for an event film.
Your Daily Blend of Entertainment News