Anna Faris Is Making An Overboard Remake, But Not With Chris Pratt, So We're Sad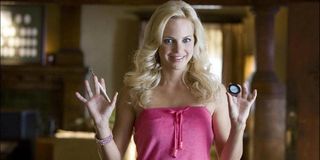 Hollywood has yet to come across a film that it hasn't been able to reimagine, reboot, or remake in some form or another. For people with an overactive sense of nostalgia (such as yours truly), it's an excellent time to be an active moviegoer. Beloved properties from the 1980s have been remade and rebooted time and time again, and now it seems that Overboard is next on the list. We've officially learned that Anna Faris is set to step in for Goldie Hawn as the film's female lead, and while her husband Chris Pratt won't be joining her, we're still incredibly excited to see what this movie has in store for the classic story.
According to a new report from THR, Anna Faris has officially signed on to co-star alongside Mexican movie star Eugenio Derbez in a remake of Garry Marshall's Overboard. The remake will take the core concept of the original and turn it on its head -- making Derbez a wealthy playboy who finds himself convinced that he is the husband of a single, working class woman after he falls off of his yacht. Not much else is known about the film yet, but it has very clearly enlisted some top-notch comedic talent to bring the story to life.
Of course, as excited as we are about the prospect of an Overboard remake materializing in the near future, the fact that Chris Pratt won't be headlining the movie opposite his wife seems like a wasted opportunity. After all, while Anna Faris is a perfect substitution for Goldie Hawn's original character, Pratt strikes us an equally perfect stand-in for Kurt Russell. After all, they play father and son in Guardians of the Galaxy Vol. 2. Beyond that, this husband and wife duo simply have phenomenal chemistry with one another. This is SUCH a missed opportunity.
The Overboard remake appears to be the latest in a line of gender-swapped remakes of classic 1980s comedies to be announced in recent months. In addition to this particular project, we have also carefully followed the development of a Splash remake, which will see Channing Tatum step in as a male mermaid (merman?) to replace Daryl Hannah. Combined with the recent all-female Ghostbusters reboot, it's becoming increasingly clear that gender-swapped comedies are now big business in Hollywood.
Check out a trailer for the original Overboard below:
Watch that trailer and try to tell me that Chris Pratt and Anna Faris wouldn't make a perfect Overboard remake. Then again, maybe it's better this way. We've already seen the original Overboard formula play out once before, so we're intrigued to see what Eugenio Derbez does with the Goldie Hawn role.
We will bring you more updates related to the upcoming Overboard remake as more information related to the project becomes available to us. The film will begin production in May.
Your Daily Blend of Entertainment News
Originally from Connecticut, Conner grew up in San Diego and graduated from Chapman University in 2014. He now lives in Los Angeles working in and around the entertainment industry and can mostly be found binging horror movies and chugging coffee.