11 Disney Sequels We're Getting, Whether We Want Them Or Not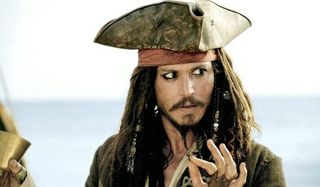 With its third weekend on the top of the box office, Zootopia is not a fad. While it doesn't look like it's going to be giving Frozen a run for its money, it will likely wrap up its theatrical run in the number two all-time box office position for Walt Disney Animation. You can be sure that somewhere within the Walt Disney Company, somebody has penciled in a sequel on some list of potential movie ideas someplace.
But, before Disney can get to a Zootopia sequel on the screen, it's going to have to work through its multi-year backlog of already planned sequels. Even when you eliminate the Marvel Studios and Lucasfilm movies from the slate, there are still a ton of sequels already planned that have Disney's name on them. Both live action or animated, the Disney sequels are coming, so brace yourself. Let's get these added to your personal calendar, listed in chronological order:
Alice Through the Looking Glass
Disney's first Alice in Wonderland was named after the first book by Lewis Carroll, while not actually based on it. It's only fitting then that the sequel would take the name of the sequel novel, while also, not being based on it at all. The original made over $1 billion at the box office so at some point you knew this sequel was inevitable. Johnny Depp will be back as the Mad Hatter and Mia Wasikowska will return to play the title role of Alice. It will also make the final film role for Alan Rickman who will voice the Caterpillar.
Release Date: May 27, 2016
Finding Dory
Beginning this June we'll get the first of our sequel barrage with Pixar's Finding Dory. For seven years after it's release Finding Nemo was Pixar's highest grossing film, before being eventually unseated by Toy Story 3. This one will focus on Dory, the forgetful Royal Blue Tang, as she goes in search for the family that she just remembered that she had. The trailer is already promising that this will be just as emotional a ride as the first film. We're not sure Finding Nemo needed a sequel, but when it comes to Pixar, we tend to give them the benefit of the doubt.
Release Date: June 17, 2016
Pirates of the Caribbean: Dead Men Tell No Tales
The Johnny Depp wears a funny hat for Disney tour continues. Less than a year after playing the Mad Hatter again Depp will return to wear his even more famous funny hat as Captain Jack Sparrow. The Pirates of the Caribbean franchise started on a very high note but has been slowly sliding downward since then. If the reason Pirates of the Caribbean: On Stranger Tides really didn't work was because Orlando Bloom was missing then this sequel will rectify that problem. Still, we're not sure that was the reason it was so disappointing.
Release Date: May 26, 2017
Cars 3
The Pixar summer of sequels continues in 2017 with a third film in the Cars franchise. While the first film was a solid original idea, the sequel, while not bad, simply a hard time justifying its existence. Pixar has repeatedly said that they receive no outside pressure to produce sequels, and if that's the case then hopefully they have a great reason to make Cars 3 happen. This one is so far out that we don't even officially have the old cast confirmed back, so this one could go in a very new direction, which may not be a bad thing.
Release Date: June 16, 2017
Toy Story 4
Another summer, another Pixar sequel. This will be the third consecutive June with a Pixar sequel attached to it. The good news -- or bad news, depending on your perspective -- is that this sequel will be the Pixar granddaddy of them all, Toy Story. We thought that Toy Story was perfectly wrapped up at the end of their trilogy, but those crazy guys at Pixar think they have a Toy Story that needs telling. As this franchise has never let us down, we'll assume it will be great until something convinces us otherwise.
Release Date: June 15, 2018
The Incredibles 2
If there's one Pixar sequel that above them all we've actually been asking for, it's this one. The Incredibles was the first Pixar animation to star human beings, and at a time that predated the comic book cinematic universe, it was, flat out, the best superhero movie ever made at the time. The only problem with this one is that it's still over three years away. We can't wait to see our favorite superhero family again, and hopefully see what they've been up to in this long period since we last saw them.
Release Date: June 21, 2019
Frozen 2
It doesn't have a release date, but what it does have is a predecessor that made over $1 billion at the global box office. It's Frozen's world, we're all just living in it. While we don't have any idea when we might see the sequel, the fact is that it doesn't matter. The original film is still hugely popular among its target audience, so there's no need to rush the sequel into production. Having said that, it appears the script is about ready, meaning voice acting will come shortly, and then the animators can get to the animating.
Release Date: Unknown
Mary Poppins
Last fall Disney announced that along with all of the live action remakes of their classic animated stories they're working on, they would be revisiting one of their major live action classics as well. The new Mary Poppins film will reportedly be a sequel to the 1964 film which won an Academy Award for Julie Andrews. The current word is that Emily Blunt is in talks to take over the classic role and Hamilton writer and star Lin-Manuel Miranda has also been approached to play the male lead. Does there need to be a Mary Poppins sequel? Probably not. Are they talking to the right people if they truly want to make it great? Absolutely.
Release Date: Unknown
Maleficent 2
While Maleficent wasn't Disney's first foray into making live action adaptations of their own classic animated features, it was the one that showed them you could make giant piles of money by doing it. The first film claimed to tell the true story behind the woman who was traditionally viewed as the villain, but this version painted her in a different light. The word is that Angelina Jolie has signed on to make the sequel at some point down the road. We have even less idea what we're in for than we did for the first film, but that was part of the fun.
Release Date: Unknown
Disenchanted
Enchanted was a fun and unique film from almost ten years ago that was incredibly successful. It's been on the list of "sequels people want" for years. While it looked like there was never any movement on this, we know now that there is a script under development and there are hopes that it could be ready to go any day now. If that happens, then Disenchanted could jump up this release list very easily. It looks likely to happen, we just don't know when.
Release Date: Unknown
Wreck-It Ralph 2
At the bottom of the list, we have another film that Disney has yet to officially announce, but that others have told us is coming. The voice of Wreck-It Ralph himself, John C. Reilly, has told us that he has signed on for a follow-up about the video game villain who finds a way to become a hero. While nobody else seems to know anything about the potential sequel, we're guessing Reiley is on the level. We loved the video game world that Disney created in the first film and can't wait to see what they can do with another try.
Release Date: Unknown
This poll is no longer available.
Your Daily Blend of Entertainment News
Content Producer/Theme Park Beat
CinemaBlend's resident theme park junkie and amateur Disney historian. Armchair Imagineer. Epcot Stan. Future Club 33 Member.