There's Full Frontal Male Nudity In Baywatch, But It's Not What You Think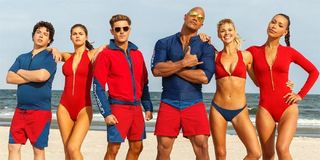 In the modern cinema era, there is a rich history of large-scale R-rated comedies coming out during the summer, and one of the titles fitting that bill in 2017 is director Seth Gordon's Baywatch. In the trailers that have been released in the past few months, the movie has not been shy about demonstrating its sensibilities... but the most recent footage previewed certainly ratchets expectations for raunchiness and gross-out material.
Paramount Pictures held its big studio presentation this week at CinemaCon -- the annual convention for theater owners held in Las Vegas -- and among the movies previewed on their slate was Baywatch. With almost the entire main cast on hand at the event, the film debuted brand new R-rated footage for the crowds in Caesars Palace's Colosseum, the most notable featuring Zac Efron handling a dead man's junk.
The sequence begins with Mitch (Dwayne Johnson), Matt (Zac Efron) and Summer (Alexandra Daddario) sneaking into a morgue for an investigation -- disguised as doctors. They're looking for hard evidence in a case they're building, and part of that involves the inspection of a corpse. Mitch pulls a body out of a drawer, and while you can't really tell what he's looking for without more plot information, he sees something that confirms his suspicions about the way that the man died.
While Summer keeps lookout, Mitch calls Matt over for help, lifting the sheet that has been covering the body and revealing the man's genitals. Mitch asks that Matt inspect the taint for anything abnormal -- and while the latter vehemently refuses to lift a dead man's ball sack, he eventually does so. Grabbing the man's groin and taking just a quick look, Matt says that nothing is wrong, but Mitch tells him that he needs to give it a real inspection. It's only at this point that Matt thinks to grab a pair of gloves off nearby table, which he very loudly yells at everyone about.
Once again the young lifeguard heads back into the corpse's groin, and starts giving it a close look. Meanwhile, Mitch slowly lifts up his smartphone and starts snapping pictures, all while continuing to tell Matt to continue going deeper and getting closer. Before too long, Matt realizes what's happening, and begs his colleague not to post the pics.
While Mitch is having a good laugh, Summer alerts the men that somebody is coming and that they have to hide. Naturally, the first thing they think of is the morgue drawers, but this idea really only works out for Mitch and Summer. They manage to get into empty spaces, but Matt winds up laying on top of a corpse. To make things worse, there is also a corpse above him that is dripping what Mitch identifies as decomposing fat.
While Summer and Mitch beg Matt to be quiet with two big dudes roaming around the morgue looking for intruders, the fat drips keep coming and splattering all over his face. While this is more than enough to freak him out, what tips him over the edge is a drop falling into his mouth. No longer caring about hiding, he bursts out of the morgue drawer and over to a giant bottle of hand sanitizer, which he proceeds to squirt into his mouth.
In case you couldn't tell from this description, it looks like the Baywatch movie is going crazy blue with its humor, and has absolutely no shame in doing so. The film was conceptualized with a hard R-rating, and the CinemaCon footage most definitely shows that director Seth Gordon really went for it.
If reading about this sequence really tickled your funny bone, the good news is that it won't be much longer until you have the chance to see the full film. Opening opposite the much more family friendly Pirates of the Caribbean: Dead Men Tell No Tales, Baywatch will be arriving in theaters just in time for Memorial Day weekend on May 26th. Stay tuned on CinemaBlend for more about the film, and hit the comments section with your thoughts.
Your Daily Blend of Entertainment News
Assistant Managing Editor
NJ native who calls LA home and lives in a Dreamatorium. A decade-plus CinemaBlend veteran who is endlessly enthusiastic about the career he's dreamt of since seventh grade.