The Blunt Reason Cars Don't Eat Food In The Pixar Movies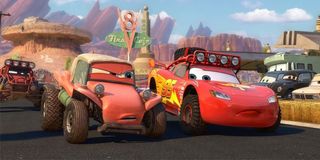 The world of Cars is, quite honestly, one of the strangest that Pixar has yet created. While the characters are the least human in their design, they are actual automobiles after all, the world is one that may be the most realistic. The Cars themselves seem to fluctuate between being people and being cars. Some behaviors fit with one, while others go the other direction. I recently had the opportunity to sit down with Cars 3 director Brian Fee and I asked him if we'd ever see cars doing some simple human things, like eating food. Fee says it won't happen, and the reason is fantastic. According to the director...
I now totally understand this because after I asked this question, I started to think about it, and now I'm broken. Brian Fee admits that with all Pixar films, if you analyze them logically, they'll fall apart, as such, part of his job as the filmmaker is to make sure the audience doesn't do that. This means creating great stories and characters for the audience to get lost in, so they never have a moment to wonder "how exactly did this world ever come to exist?"
To be fair, we did see one car eat something that was actual food at one point. In Cars _2_ Mater takes a big helping of what he thinks is pistachio ice cream. It's actually wasabi, and he eats it by just sticking out his tongue and licking it up. It's honestly fairly disturbing. Brian Fee was right. We don't want to see that.
However, this also means that there are no hard and fast rules regarding what Cars can't and can't do. The line shifts with each idea based on whatever works best for the story. Brian Fee went on to tell me that some of the characters in Cars 3 will do some more "human" things that previous films haven't done, just because they seem to work better than the alternative.
So if you're one of those people that tries to make "sense" of the Cars movies, you can stop, because the fact is that they don't actually make sense, and that's ok. They can still create great stories and hopefully, Cars 3 will be another great one. We'll find out when it's released June 16.
CinemaBlend's resident theme park junkie and amateur Disney historian. Armchair Imagineer. Epcot Stan. Future Club 33 Member.
Your Daily Blend of Entertainment News
Thank you for signing up to CinemaBlend. You will receive a verification email shortly.
There was a problem. Please refresh the page and try again.