Watch Vin Diesel's Response To Charlize Theron Comparing His Kissing To A Dead Fish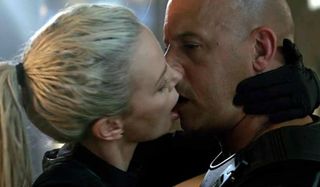 Vin Diesel was likely going to have some choice words for Charlize Theron after she compared their kiss in The Fate Of The Furious to playing tonsil hockey with a dead fish. Fortunately, Vin Diesel was provided with an opportunity to respond to these outrageous allegations when he was a guest on The Ellen Show, and as you can imagine he was far from pleased with his co-star's quote. So much so that Vin Diesel even had to rise to his feet as he sought to defend himself. But his response may not be exactly what you expected. Here's what he told the morning host:
Considering that Charlize Theron previously had to kiss Patton Oswalt in Young Adult that insult has particularly got to sting for Vin Diesel. However Vin Diesel had a pretty good reason for why he wasn't able to get so deeply passionate with Charlize Theron while shooting The Fate Of The Furious. Vin Diesel explained that when Charlize Theron's Cipher went to smooch Dom in the film, his character was holding back because it was right in front of his wife Letty (Michelle Rodriguez).
Just the mere suggestion that he's a bad kisser provoked Vin Diesel to rise to his feet in fury, though, as he immediately looked for encouragement from those in the crowd. Rather than going around to each individual in attendance and kissing them to prove his point, Vin Diesel's argument was simply standing there in all of his masculine glory and then stretching out his arms. It seemed to do the trick, for the most part, too. But then his comments got a little weirder.
Per the actor, no one should bring dead fish into the equation in front of Ellen DeGeneres, considering that she voiced Dory in both Finding Nemo and Finding Dory, although even Ellen isn't sure how that clears the water between the two celebs. But clearly he missed a chance to ask the big question, 'How does Charlize Theron know what it's like to kiss a dead fish?'
If you want to check out Vin Diesel and Charlize Theron locking lips in what was apparently not a great scene for Theron to film, you can check out The Fate Of The Furious right now. Considering that it has just passed $1 billion at the box office it appears as though plenty of you have already done that. Vin Diesel will return to our screens in the very near future, too, as he also is voicing Groot in Guardians Of The Galaxy Vol. 2, which is due out on May 5, while you can check CinemaBlend's full 2017 release schedule for other future releases that just might tickle your fancy.
Your Daily Blend of Entertainment News
Thank you for signing up to CinemaBlend. You will receive a verification email shortly.
There was a problem. Please refresh the page and try again.