Mythbusters' Adam Savage Toured The Set Of Alien: Covenant, And It's Wonderful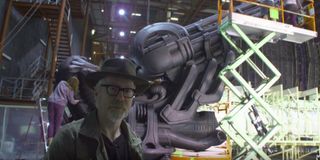 Attention to detail is a signifying trait of the Alien franchise. Ever since H.R. Giger's first Xenomorph appeared on-screen in 1979, fans of the series have loved to dissect the Alien universe and gush over the smallest minutiae. With the upcoming release of Alien: Covenant, that tradition is clearly alive and well. In fact, Mythbusters' Adam Savage recently had the opportunity to tour the set of Alien: Covenant to check out the production design, and the video of the event is every bit as perfect as you would expect. Check it out below to see for yourself.
Behind-the-scenes tours of a blockbuster movie set can get somewhat dry, which is why Adam Savage's presence in that video is so welcome. Bringing the same folksy yet competent charm that he brought to his time on Mythbusters, the beloved TV personality helps us understand everything that goes into making a massive production like Alien: Covenant. Artistic endeavors like set and production design are the types of things that we don't immediately notice when we watch a film -- we shouldn't if the movie is made correctly. However, Savage's commentary on the process of putting together the Covenant sets allows us to accurately comprehend and appreciate the sheer amount of work put into the film. Beyond that, he just seems like a cool guy that we would want to hang out with.
Throughout that entire video, it's pretty obvious that Adam Savage feels right at home in the craftsman's workshop atmosphere of a movie set. That said, we're just glad he opted not to sit in the Space Jockey's chair. If it had broken, we might've had to wait even longer to see Alien: Covenant and nobody wants that.
That set tour gives us a much closer look at the nitty gritty details of Alien: Covenant, and only adds to our mounting anticipation for the project. Taking place between the events of Prometheus and the original Alien film, Covenant follows a group of human explorers who embark on a journey to set up a colony on a remote alien world. However, upon their arrival on the seemingly uninhabited planet, they discover the horrors left behind by the Engineers (whose ship is on full display in Adam Savage's set tour) and the savage alien creatures known as the Xenomorphs. The film stars Katherine Waterston, Billy Crudup, Danny McBride, and Michael Fassbender -- who will perform double duty as the synthetic androids Walter and David. No word yet as to whether or not Adam Savage managed to sneak a cameo into the film, but I think we can all agree that would be fantastic, as unlikely as it is.
CinemaBlend will bring you more information related to the upcoming release of Alien: Covenant as new details are made available to us. Ridley Scott's latest installment in the sci-fi/horror series will debut in theaters later this month on May 19, 2017.
Originally from Connecticut, Conner grew up in San Diego and graduated from Chapman University in 2014. He now lives in Los Angeles working in and around the entertainment industry and can mostly be found binging horror movies and chugging coffee.