Who Knew That The Big Bang Theory's Jim Parsons Was So Fit?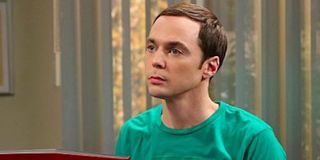 They say you can't judge a book by its cover, but you also can't judge an actor by his role on a TV show. Fans of The Big Bang Theory know Emmy Award-winning actor Jim Parsons as the nerdy yet lovable Sheldon Cooper. The character has a strong brain, but he is not keen on physical fitness. However, Parsons apparently is different from his onscreen role in that regard, because in real life the actor is a bit of a beefcake. The 44-year-old comedy star's personal trainer posted a video to social media to show Parsons up in the gym working on his fitness. Check out the video here, and continue reading below for details:
Jim Parsons is a beast doing the sled rope pull with 475 pounds on it. Personal trainer Ben Bruno posted the video of Parsons to Instagram. From the looks of it, Parsons has been making significant gains with the help of his trainer, who also works with celebrities like supermodel Kate Upton, talk-show host Chelsea Handler, and actor Casey Affleck.
Ben Bruno has posted other videos of Jim Parsons in the past, and Parsons himself has also taken to social media to show photos of himself working out at Bruno's gym. For example, Parsons celebrated the new year by pushing a 725-pound sled while Bruno stood on top of it. One of the videos Bruno previously posted showed Parsons making it look easy to do one-armed sled rows with 400 pounds on it. In the caption, Bruno joked,
Then there was a video of Jim Parsons dragging a 425-pound sled across Bruno's gym. Parsons crushed that exercise, too. Bruno left an encouraging caption in that photo, writing,
Wow, those are inspiring words. Jim Parsons previously spoke about the social media posts from the gym, and he described what working out is like for him. Parsons explained that he is good at doing specific exercises, but he is not so hot with the gym in general. That sounds completely understandable to us.
Watching Jim Parsons crushing it at the gym is super inspiring. Plus, we can tell how dedicated he is because he has been working with Bruno for quite some time now. The video of Parsons doing pulling the sled is just the motivation we needed to work out today. Are you feeling inspired? Let us know in the comments section.
Your Daily Blend of Entertainment News
Your Daily Blend of Entertainment News
Thank you for signing up to CinemaBlend. You will receive a verification email shortly.
There was a problem. Please refresh the page and try again.