Yondu Finally Got To Meet Mary Poppins, Check It Out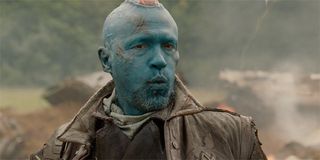 Apparently still riding high off of the success of Guardians of the Galaxy Vol. 2 at the box office (as well as its ability to thoroughly trounce any and all challengers), Michael Rooker recently decided to take a trip to Disneyland in Anaheim, California. While there he encountered a familiar face, and she was practically perfect in every way. That's right folks, Rooker came face to face with Mary Poppins, and the photo of the meeting is even better than you would imagine. Check it out below to see for yourself.
Warning: mild spoilers ahead for Guardians of the Galaxy Vol. 2. Read ahead at your own risk! If that's not a perfect photo, then I don't know what is. By now most people already know that Guardians of the Galaxy Vol. 2 is jam packed with hilarious moments and endlessly funny lines, but Yondu screaming "I'm Mary Poppins, y'all" easily stands out as a highlight of the film. It strikes a perfect comedic balance in the way that it comes out of nowhere, while also feeling beautifully in line with Yondu's complete obliviousness to human pop culture. The moment has already become iconic, and hilarious toys are even being made to commemorate it.
We need to enjoy everything that we can get from Michael Rooker right now because it seems doubtful that fans will see as much of him in future Marvel Cinematic Universe adventures. The Guardians sequel centers on Yondu's arc to become a hero and father that Peter Quill (Chris Pratt) never had as a kid, and his death perfectly punctuates his storyline. James Gunn has already made it clear that he would be willing to bring Yondu back in a flashback sequence, but as of right now Vol. 2 seems like the meatiest Yondu story that we're going to get.
Beyond how utterly awesome this picture is, it also has us wondering whether or not we will ever see Michael Rooker in a Mary Poppins movie. Mary Poppins Returns (which will star Emily Blunt as the titular nanny) is currently shooting for a 2018 release, which means there is still plenty of time to get Rooker in for a cameo. Both Guardians of the Galaxy and Mary Poppins are both owned by Disney, so the logistics of such a meeting wouldn't be terribly difficult to figure out. No such cameo has been hinted at by the studio just yet, but it's an idea that I'm personally routing for.
James Gunn's Guardians of the Galaxy Vol. 2 is now in theaters, and everyone's favorite nanny will make her way back to the silver screen when Mary Poppins Returns debuts on Christmas Day 2018. For more information concerning the rest of the films set to debut this year, make sure to take a glance at our 2017 movie premiere guide.
Originally from Connecticut, Conner grew up in San Diego and graduated from Chapman University in 2014. He now lives in Los Angeles working in and around the entertainment industry and can mostly be found binging horror movies and chugging coffee.
Your Daily Blend of Entertainment News
Thank you for signing up to CinemaBlend. You will receive a verification email shortly.
There was a problem. Please refresh the page and try again.