Star Wars Is Getting A New Spoof Movie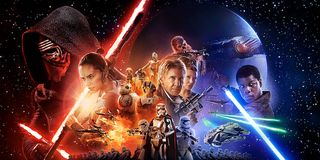 Star Wars cemented itself as a pop culture juggernaut long ago, but now under the Disney family, the franchise from a galaxy far, far away truly can't be stopped. Just look at Star Wars: The Force Awakens and Rogue One: A Star Wars Story's performances for proof. However, that doesn't mean the sci-fi/fantasy epic isn't free from being ridiculed or parodied. Even with Lucasfilm finding a new home, Star Wars has been targeted for another spoof movie, this time from the guys behind Scary Movie.
Jason Friedberg and Aaron Seltzer, the men who also masterminded Date Movie, Disaster Movie and Vampires Suck, announced that their next project will be writing and directing a Star Wars spoof called Star Worlds Episode XXXIVE=MC2: The Force Awakens The Last Jedi Who Went Rogue. That's a mouthful, but at least they have most of their bases covered. Surely some of their title inspiration came from the faux online speculation about Episode IX's title, right? Anyway, according to THR, the movie will be co-financed by Covert Media, and they will launch the worldwide sales in Berlin. Broken Road Productions will also be involved. Shooting is expected to begin sometime in the fall later this year.
When it comes to the spoof movie, Jason Friedberg and Aaron Seltzer have definitely left their mark on the that form of parody. 2000's Scary Movie was not only the flick that put them on the map, but is also arguably still their biggest success, taking in $278 million worldwide off a $19 million budget. That movie also spawned four sequels, although Friedberg and Seltzer weren't involved with those productions. That said, basically all of their movies after Scary Movie have been critically panned across the board. One would hope that their Star Wars spoof will be the exception, but if history is any indication, the material probably won't be comedy gold. Absurdity, on the other hand, won't be a problem. It will have plenty of that to throw at audiences. Friedberg and Seltzer most recent movie was the Fast & Furious franchise spoof Superfast!, and they also have Who the F#@K Took My Daughter? (a Taken spoof) in the works.
Although Star Worlds Episode XXXIVE=MC2: The Force Awakens The Last Jedi Who Went Rogue is the latest Star Wars spoof movie to be released, it's by no means the first of its kind. Arguably the best one that comes to mind is Mel Brooks' Spaceballs, which was released a couple years after Return of the Jedi and also made fun of franchises like Star Trek and Alien. There have even been comedies centered around characters whose goals are Star Wars-centric, like 2009's Fanboys and the upcoming The Line Kings.
Let us know what you think about this upcoming Star Wars spoof movie in the comments below.
Connoisseur of Marvel, DC, Star Wars, John Wick, MonsterVerse and Doctor Who lore. He's aware he looks like Harry Potter and Clark Kent.
Your Daily Blend of Entertainment News
Thank you for signing up to CinemaBlend. You will receive a verification email shortly.
There was a problem. Please refresh the page and try again.