Dwayne Johnson Says Zac Efron Is More Than A Pretty Pair Of Abs, He Writes Jokes Too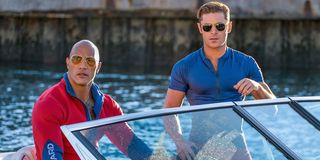 If you'd like to avoid learning some of the funny jokes that pop up in the new Baywatch movie, just know that Zac Efron came up with some of them, and check out the rest of our lovely articles.
Dwayne "The Rock" Johnson is in a slew of upcoming movies, so it's a good thing the actor seems to genuinely enjoy working with his co-stars on set. The upcoming star of Baywatch also gives credit where credit is due, recently noting that Zac Efron actually came up with a whole slew of the sick burns Johnson's character Mitch Buchanon throws out to insult Efron's character Matt Brody. If you don't mind being spoiled on a couple of minor jokes for the movie, check out what the actor had to say about the former High School Musical star, below.
I think we all knew Zac Efron goes hard when he's acting, simply because we've seen his washboard abs in the trailer for this new movie. Apparently, he's actually committed to the comedy, as well. Some of the funniest moments in the movie come when Johnson's character calls Efron's names, and it's sort of fascinating to know those were unscripted and sort-of came out of moments of inspiration on Efron's part. It makes sense, too, as Efron would be more in touch with descriptors that would appeal to or at least come off as millennial references.
This isn't a huge plot point in the movie or anything, but as you've likely gleaned from the trailers, Matt Brody gets a gig with Baywatch simply because he's a former Olympic medalist and management thinks it will look good. However, Mitch Buchanon and Zac Efron don't get along from the start, and Buchanon really isn't keen to call the smaller, but also fit swimmer by his real first name. This leads to insults such as the High School Musical remark, which is pretty meta considering Efron starred in that movie in real life. You've got to give credit where credit do, and Dwayne Johnson definitely has with his recent comments to Yahoo.
If you'd like to get a sense for a lot of the other jokes Baywatch gets into, you can chuckle while watching the full red band Baywatch trailer, below.
Baywatch hits theaters today, so if you are looking to kick off Memorial Day weekend with your movie, you have the r-rated flick or the more family-friendly Pirates of the Caribbean: Dead Men Tell No Tales as options. Here's a full look at what is coming out this summer.
Amazing Race & Top Chef superfan with a pinch of Disney fairy dust thrown in. If you've created a rom-com I've probably watched it.