The Fun Way Transformers: The Last Knight Is Getting Fans Pumped For the Movie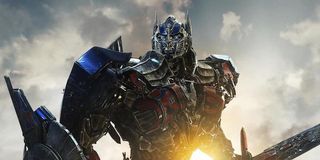 One of the most compelling themes that Michael Bay will explore in his upcoming Transformers film is the notion that the titular shape-shifting robots have been on Earth far longer than anyone had previously assumed. They have apparently been here forever, and Transformers: The Last Knight will examine how they have remained undetected for centuries. It is an utterly bizarre (and somewhat terrifying) concept, and the folks behind the film have rolled out a fantastic new piece of viral marketing to promote its upcoming release. Check it out below.
You will likely see hundreds of street signs over the course of a single day, but none of them will ever come close to the post shown in that picture. The sign implies that the Decepticons (and by extension, every race of Transformer) have infiltrated our society and are currently hiding among us as the very vehicles that we drive day in and day out. It is a genuinely absurd premise, but it also falls perfectly in line with what we have already seen from this franchise in previous films. One thing is certain: you definitely don't want to be inside of a Decepticon car when it transforms. That likely won't end very well for you.
Everything that we have seen from Transformers: The Last Knight lends a sense that Michael Bay wants to establish a more sprawling sense of mythology for this particular franchise. Although Mark Wahlberg's Cade Yeager continues to be the focal point of the story, the fifth film in the series will delve into a far richer sense of history that incorporates a wide variety of eras. Among these historical and mythical periods, we will see the battlefields of WWII, Ancient Japan (complete with samurai Transformers), and even the medieval times of King Arthur. As the series continues to make this drastic change to its mythology, the Transformers themselves have become far more prominent players in stories, which seems to indicate that Bay intends to frame them as central heroes in this universe. With Transformers spin-offs apparently on the horizon (such as the reported Bumblebee solo movie) this creative decision makes quite a bit of sense.
Check out a trailer for Transformers: The Last Knight below for an even closer look at the upcoming blockbuster.
All of the paranoia and fear of the Decepticons will come to a head later this summer when Transformers: The Last Knight blasts its way into theaters on June 21. Here is everything that we currently know about the upcoming Transformers movie so you can get yourself up to speed on the story.
Originally from Connecticut, Conner grew up in San Diego and graduated from Chapman University in 2014. He now lives in Los Angeles working in and around the entertainment industry and can mostly be found binging horror movies and chugging coffee.
Your Daily Blend of Entertainment News
Thank you for signing up to CinemaBlend. You will receive a verification email shortly.
There was a problem. Please refresh the page and try again.