Patty Jenkins Is Not Currently Signed On For Wonder Woman 2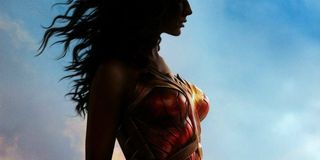 The entire DC Trinity has properly entered the DCEU, and Patty Jenkins' Wonder Woman has risen to the top as the franchise's best film yet. Given the amount of fanfare associated with the movie (both critically and commercially), it would make perfect sense for fans to start wondering what Jenkins and Gal Gadot will do next in Wonder Woman 2. However, it has been revealed that Patty Jenkins is not actually confirmed for the Wonder Woman sequel yet -- which may ultimately work to her advantage.
Audiences and DC insiders alike seemingly went into Wonder Woman with tempered expectations. The DCEU was in a tight spot after three divisive films, and rumors associated with the project suggested that it was "a mess" behind the scenes. Beyond that, Patty Jenkins only had one feature film on her resume when she signed on for Diana Prince's solo movie -- leading to Warner Bros. only signing her for one film as a precautionary measure. As a result of this, while Gal Gadot has a long-term deal with Warner Bros. to continue playing Diana Price, Jenkins has not officially signed on for the Wonder Woman sequel yet. Negotiations to bring Jenkins onboard for the sequel will reportedly begin soon, but if she wanted to walk away from Wonder Woman right now, she technically could.
That said, money talks and Wonder Woman's strong opening weekend makes it clear that Patty Jenkins has a hit on her hands. Despite THR's report that Jenkins hasn't signed on for Wonder Woman 2 yet, the possibility of her not joining the sequel seems remote. Jenkins has shown a clear passion for this corner of the DC universe with her work on the first film in this franchise, and she has consistently talked about possibly story avenues that she would like to explore. She hasn't signed on the dotted line yet, but we generally expect her to do so once negotiations properly begin.
To say that Wonder Woman 2 needs Patty Jenkins would be a massive understatement. Wonder Woman is easily the most cohesive entry in the DCEU to date, and Jenkins has shown a deftness with the film's titular character I don't believe has been seen in the silver screen DC world since Christopher Nolan's work on The Dark Knight trilogy. Warner Bros. probably assumed that inking Jenkins for only one movie would be a safe bet in the short term, but the film's unanticipated critical and commercial success has officially granted her unexpected power to negotiate a considerably higher price tag for future films. That just goes to show that it pays to do a job well, no matter the expectations.
Of course, there's also plenty of room for Patty Jenkins in the DCEU beyond the Wonder Woman franchise. Fans have gravitated towards her lighter take on the DC mythos, and some properties could obviously benefit from her special touch. Man of Steel 2 and The Flash (both of which currently need directors) are the first two projects that come to mind, but the possibilities for Jenkins in this cinematic universe now seem endless.
As of right now, Patty Jenkins and Warner Bros. are riding high off of the success of the Monster director's first foray into the DCEU. If (and when) Wonder Woman 2 happens, the studio would be wise to shell out the necessary cash to lock her down. Wonder Woman is currently in theaters, so make sure to check it out!
Originally from Connecticut, Conner grew up in San Diego and graduated from Chapman University in 2014. He now lives in Los Angeles working in and around the entertainment industry and can mostly be found binging horror movies and chugging coffee.
Your Daily Blend of Entertainment News
Thank you for signing up to CinemaBlend. You will receive a verification email shortly.
There was a problem. Please refresh the page and try again.