The Supercut Of Anthony Mackie And Sebastian Stan Making Fun Of Tom Holland Is Hilarious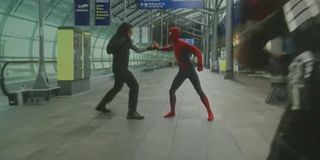 It's great when dudes have an epic bromance on the set of a popular movie, but it might be even better when they spend their time in production poking fun at each other. Captain America: Civil War's Sebastian Stan and Anthony Mackie totally ganged up on the much younger and definitely more British Tom Holland during his first outing as Spider-Man, and this supercut hilariously shows the times they roasted the actor. Check it out.
From cracks about Tom Holland's protein shakes to being the relative youngster on set, this video truly does have it all. At one point, Anthony Mackie, who plays Falcon in several movies, talks about how Spider-Man's suit is obviously inferior because it's just spandex. Sebastian Stan even gets a good crack in at Mackie during these roasts. Mackie's complaining about how annoying working with Holland is and Sebastian interjects that he just found out he's actually only saying this stuff because he had just found out he wasn't going to be in Spider-Man: Homecoming. There are a slew of interviews in here, which just makes it clear how hard the two actors went while roasting young Spider-Man.
It should be noted though that the cracks are all in good fun, and they may be coming because both Anthony Mackie and Sebastian Stan got beat by the young new superhero during the big face off at the airport in Captain America: Civil War. Tom Holland may "wear a lot of hair gel," but he certainly managed to wear that gel and kick the asses of two much older and more experienced characters in the Marvel Universe.
The two actors didn't get to jokingly torment Tom Holland on the set of Spider-Man: Homecoming, but we do expect the jokes to start rearing again fairly soon. Right now, a slew of actors are on the set of Avengers: Infinity War, and Spider-Man, Bucky Barnes and Falcon are all supposed to be in that movie. The cast has been pretty open that they are not all filming scenes with each other, but once press time comes around, we wouldn't be shocked if the juicebox jokes start flowing out of the mouths of Anthony Mackie and Sebastian Stan again.
Mackie has always been a great one for talking a little bit of smack about the other heroes in the Marvel universe. He's had some choice words for the likes of Tony Stark before, too. Still, it's great that he's so gung ho about his own character, as Falcon is a pretty welcome addition to any Marvel movies he is asked to be in. Hopefully, we'll see plenty more from the character in the future, too. For now, here's what we know about Avengers: Infinity War.
Reality TV fan with a pinch of Disney fairy dust thrown in. Theme park junkie. If you've created a rom-com I've probably watched it.
Your Daily Blend of Entertainment News
Thank you for signing up to CinemaBlend. You will receive a verification email shortly.
There was a problem. Please refresh the page and try again.