How Wolverine Bizarrely Influenced The Greatest Showman's Songs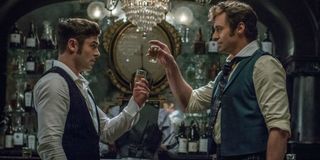 It is a well known fact that Hugh Jackman can belt out a tune as well as anyone else in Hollywood. The last time audiences got to hear the Australian in song on the big-screen was actually all the way back in 2012 when he played Jean Valjean in Les Miserables. Thankfully Hugh Jackman is going to right that wrong before the end of the year, as we'll get to hear and see him in action as P.T. Barnum in The Greatest Showman. But it turns out that Hugh Jackman's iconic non-singing performances as Wolverine helped to inform some of the musical numbers in The Greatest Showman.
That's because when composers Justin Paul and Benj Pasek were writing songs for The Greatest Showman they repeatedly reminded themselves that Wolverine was going to be singing them. Especially since they wanted some of the superhero's attributes in the character of P.T. Barnum. Justin Paul previously revealed their process writing songs for The Greatest Showman, recalling,
CinemaBlend had the chance to sit down and talk with Justin Paul and Benj Pasek when we visited the set of The Greatest Showman earlier this year in Brooklyn, New York. The duo were clearly in high spirits, as this was shortly after they had picked up the 2017 Academy Award for Best Original Song for La La Land's "City Of Stars." But while the duo are currently the talk of Tinseltown, especially following on from the huge success of their Broadway smash-hit and Tony award winner Dear Evan Hansen, they've actually been hard at work on The Greatest Showman for several years now.
During our wide-ranging discussion the pair explained that they actually signed up to work on The Greatest Showman rather fortuitously. Pasek and Paul were actually just at 20th Century Fox's Los Angeles base for a general meeting when they were informed that a producer down the hall was working on a musical. This unnamed producer was luckily in their office at the time, and following a brief chat with that individual, Pasek and Paul were invited to meet with The Greatest Showman's director Michael Gracey.
After wowing each of these individuals with their musical talents Pasek and Paul were quickly signed up for The Greatest Showman. And the trailer for the film teases just how compelling and rousing their musical efforts will be. If you've not seen the trailer for The Greatest Showman yet then you can watch it below.
Superb stuff. You'll get to see the full range of numbers Benj Pasek and Justin Paul have written and composed for The Greatest Showman when it's released on December 25.
Your Daily Blend of Entertainment News