How Deadpool 2 Is Dealing With Cable's Origin Story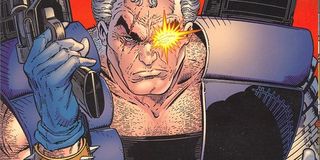 Although it may ultimately be one of 2018's smaller superhero movies in terms of sheer scale, Deadpool 2 is still shaping up to become one of next year's biggest releases. There's a ton of fanfare surrounding the follow-up to last year's surprise box office smash, and all eyes are on director David Leitch to deftly bring Josh Brolin's Cable into the silver screen X-Men world alongside Ryan Reynolds' titular mutant. So what's the key to adapting such a complex character like Nate Summers? According to Leitch, it's all about taking elements that work for the story and shelving the rest.
There's no getting around it. Cable has one of the most convoluted backstories in the entire pantheon of Marvel Comics (X-Men or otherwise), and there's no way for David Leitch to cram every minor detail into a movie, particularly when he's not even the central character of said film. Instead, Leitch has started with the basics and cherry-picked the essential qualities that Cable will need for his first silver screen appearance. Then, if luck prevails, they can go back to the well and mine his mythology even further in a future installment. The key to a proper Deadpool film is a lean story, so it's all about being as economical as possible with an iconic character -- while maximizing fun every step of the way.
For those of you who don't know, Cable is a time-travelling mutant with telepathic and telekinetic abilities. The son of Cyclops and a clone of Jean Grey, the guy is a walking paradox who hails from a distant future, suffers from the "Techno-organic Virus" (which turns his eye and left arm into cybernetic appendages), and often serves as a member of the X-Force team. If that hurts your head, then don't worry, David Leitch's comments to Screen Rant seem to indicate that he thinks so too.
The need to cherry-pick character traits becomes even more important when we consider the fact that Deadpool 2's cast will be considerably larger than the one that preceded it. In addition to Cable and the Merc with the Mouth, the highly anticipated sequel will also bring Domino (with Atlanta actress Zazie Beetz in the role) into the fray for the first time, as well as returning faces like Colossus and Negasonic Teenage Warhead. If we want to see more of Cable after his debut in Deadpool 2, then we will just have to hope that the film is successful enough to warrant many more sequels.
Deadpool 2 is currently set to debut in theaters next summer on June 1, 2018. For now, make sure to check out David Leitch's latest foray into action filmmaking when Atomic Blonde hits theaters this weekend on July 28, and see our movie premiere guide for more information on this year's theatrical releases!
Originally from Connecticut, Conner grew up in San Diego and graduated from Chapman University in 2014. He now lives in Los Angeles working in and around the entertainment industry and can mostly be found binging horror movies and chugging coffee.
Your Daily Blend of Entertainment News
Thank you for signing up to CinemaBlend. You will receive a verification email shortly.
There was a problem. Please refresh the page and try again.