10 Awesome Movies You Need To Watch Before They Leave Netflix In August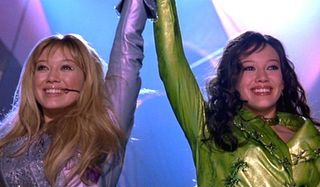 You can practically set your calendar to the following constants: pay days, Sharknado films, and the revolving selections of the Netflix instant queue. We've already seen the fantastic films heading to the streaming giant next month, but alas, now's the time to go through the movies that are worth watching before Netflix kicks them off the service. If you want to see what was taken off of Netflix streaming through the month of July, click here. But if you're more curious about what you've still got time to take part in, you may proceed!
10 Things I Hate About You
It may sound weird, but if Ready Player One is going to incorporate more aspects from 90's pop culture into its treasure hunting narrative, we kind of wish they'd use the most iconic scene from 10 Things I Hate About You as one of the puzzles. I can still remember Heath Ledger serenading Julia Stiles in the bleachers, with young Wade Watts having to remember the words to, "Can't Take My Eyes Off Of You," as the sequence plays out. That scenario is not very likely to play out, but you can still watch the origins of that special moment on Netflix before it leaves the streaming service.
Babe
George Miller is a hell of a director. One moment he's directing penguins with Happy Feet, and the next he's giving us a lovely day with Mad Max: Fury Road. So let Netflix's decision to drop Babe be your periodic reminder that yes, the man that brought us such tales of surreal conservation and high octane action can also tell stories about talking pigs that herd sheep into their enclosures. Want to bend your mind a little further? Rex, Farmer Hoggett's ornery sheepdog, is voiced by none other than Hugo Weaving.
Superbad
School may be out for the season, but we're at a point right now where it's almost time to go back. And naturally, for some students, it will be their last year in high school, prompting some mad dashes for the last bits of chaotic fun before those college days begin. As luck would have it, Superbad is just the sort of movie that includes those antics, and it's leaving before the school year starts. So for those of you going through those awkward high school days, or want to relive the bawdy humor of this hit comedy that made Jonah Hill, Michael Cera, and Emma Stone household names, now's the time to do it.
Dope
In an alternate universe, Rick Famuyiwa, the writer/director behind Dope, would be hard at work on bringing us his version of The Flash to the DCEU. Unfortunately, this version of the film is lost to our universe, but if you want a taste of what his film could have been like, Dope is probably one of the best examples you could ever find. Taking the teen comedy and putting a more modern, socially relevant spin on it, the film stands as one of the best films people still need to see from the last couple of years. Watch it on Netflix before it's gone.
To Kill A Mockingbird
We here at CinemaBlend like to be willing servants to the public, and as such we have to warn you about To Kill A Mockingbird. While it's a fantastic film of cinematic history, it's also a film some of our younger readers may try to use as a sort of Cliff's Notes to catch up with their summer reading. So long as returning students read the book along with seeing the film, we're all for it. But never let a good movie fool you into thinking it tells you the entire story of a classic novel.
Prefontaine
The story of Steve Prefontaine is one of the most tragic tales in American sports history. The potential he had was only cut short by the tragic accident that took the young runner's life, at only age 24. Two films were made about his short, but powerful life's work, and Prefontaine is the version that focused more on Steve's story, and starred a young up-and-coming Jared Leto in the lead role. While Leto has caught some flack for some of his career choices as of late, seeing him in such a role reminds us of why he becamea notable actor in the first place.
Elizabethtown
Orlando Bloom has mostly been known for franchise films like the Lord of the Rings and Pirates of the Caribbean, but he did appear in Elizabethtown, a romantic from Cameron Crowe that wasn't super well-reviewed at the time of its release, but has lived on in popular context in the decade+ after its release. Some say that time has been kind to the film, and surely it's time for the world to revisit Orlando Bloom and Kirsten Dunst's hipster odyssey of love and loss. Give it another chance, and you might find that it's better than you could have ever thought.
The Lizzie McGuire Movie
The Disney Channel is quite a different animal than it once was. Just take a look at the movies they make today, and compare them to one of the only theatrical features to spring from their catalog, The Lizzie McGuire Movie. With their big screen adaptation of Hilary Duff's classic character, it harkens back to an era where the network was still putting out Disney Channel original movies that were well-liked by fans. If only The Even Stevens Movie could have gotten this treatment, maybe we'd see a more stable Shia LaBoeuf.
Zack and Miri Make A Porno
Zack and Miri Make A Porno may not be one of the typically mentioned classic Kevin Smith films, but the Seth Rogen and Elizabeth Banks starrer does have its moments. For example, as the film tries to mimic the style and tone of a Judd Apatow film, it still shines through as a Smith picture through and through. That, and it still has one of the best gross-out gags that plays as well for laughs as it does for shock value.
The Verdict
Paul Newman. The man's steely gaze could have put holes in the wall of the toughest battleship, and his resume is only proof of such a claim. The Verdict is one of his later films, but certainly as powerful as one of the movies Newman had made in the peak of his career. A legal drama of the highest order, you'll be on the edge of your seat with the twists and turns this film has to offer. And if that doesn't sell you, then the Newman charm surely will.
CinemaBlend's James Bond (expert). Also versed in Large Scale Aggressors, time travel, and Guillermo del Toro. He fights for The User.
Your Daily Blend of Entertainment News
Thank you for signing up to CinemaBlend. You will receive a verification email shortly.
There was a problem. Please refresh the page and try again.