Does Logan Lucky Have A Fake Screenwriter? Here's What We Know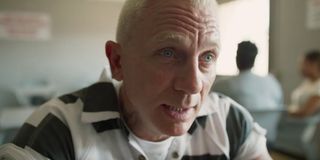 With fall fast approaching, we have officially started to gear up for 2017's most prestigious films. There are a lot of buzz-worthy movies to watch out for, but one of the most interesting of the bunch is Logan Lucky. Steven Soderbergh's NASCAR-centric heist flick has garnered an avalanche of critical praise, but now it seems there's quite a bit of buzz behind the scenes as well. Why all the commotion? Well, according to new rumors, it now appears that Logan Lucky's credited screenwriter may not even exist.
That's right. Despite the fact that a woman named Rebecca Blunt (a first-time screenwriter) is credited on Logan Lucky's script, mounting evidence (primarily the film's vague and unspecific press campaign) seems to suggest that the name may be a pen name for someone else close to the production. With that in mind, the first obvious possibility to consider is that Steven Soderbergh wrote the Logan Lucky screenplay himself. He's already known for using fake names for his projects, so it's not outlandish to think that he did it again. That said, it's been fifteen years since the Magic Mike director wrote an original film (2002's Solaris), and he is already crediting himself on other non-directing aspects of the movie, such as editor and cinematographer.
Another possibility suggested by the initial THR report about Rebecca Blunt is that it's a pseudonym for former Talk Soup host John Henson. The E! host is a friend of the Soderbergh family, and he reportedly spent the last few years working on a screenplay with story elements bearing a strong resemblance to the Daniel Craig, Channing Tatum and Adam Driver-fronted heist film.
Finally, one of the most distinct possibilities is that Steven Soderbergh's wife Jules Asner is responsible for writing the script. There's certainly credence to it being true as the former model is a published author in her own right, she was on set during production and she even reportedly has a family history that loosely resembles Logan Lucky's story. In fact, The Playlist claims to have confirmed her as the projects' definitive screenwriter, thus making her one of the most compelling and convincing candidates of the lot.
In the face of this bizarre story, Steven Soderbergh has primarily denied any mischief on his part. The legendary director even recently spoke out to EW and doubled down on the claim that Rebeca Blunt is genuine, and that she deserves the credit for her work on Logan Lucky, saying:
That comment is what makes this situation even stranger. Steven Soderbergh isn't just playing coy about whether or not Rebecca Blunt exists; he's earnestly defending her work and insisting that this mystery woman wrote Logan Lucky's screenplay. We're still not sure what to make of it, but it's obvious that there's more here than meets the eye. Whatever the reason, it's utterly confusing to try and figure out why no one wants to step forward to claim this golden ticket.
Only time will tell who wrote the screenplay for Logan Lucky, but no matter what, it's clear that the film already looks amazing. Make sure to check it out when it debuts in theaters later this summer on August 18, and take a look at CinemaBlend's movie premiere guide for more information on the rest of 2017's most highly anticipated theatrical releases!
Originally from Connecticut, Conner grew up in San Diego and graduated from Chapman University in 2014. He now lives in Los Angeles working in and around the entertainment industry and can mostly be found binging horror movies and chugging coffee.