Idris Elba Has A Really Weird Idea For Who Matthew McConaughey Should Play In The Marvel Universe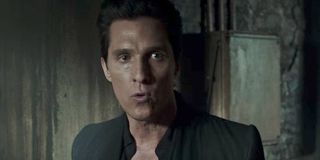 Arguably no corner of the Marvel universe has a deeper mythology than Asgard. Thor and his comrades are nearly immortal by human standards, meaning there are centuries (at a minimum) of stories that have yet to receive proper attention. Now Thor: Ragnarok and The Dark Tower star Idris Elba seems to think that Man in Black actor Matthew McConaughey would make a perfect casting choice for at least one Marvel character, noting that young Odin would be an ideal role, in his opinion:
That is admittedly a weird idea -- especially when we consider the fact that Anthony Hopkins and Matthew McConaughey don't look or especially sound like one another -- but Idris Elba told MTV that young Odin is what he'd like to see. There's no question that Matthew McConaughey has proven himself as an actor (particularly in recent years), so it is not outside the realm of possibility to assume that he could potentially pull off a younger and brasher version of Odin. In the grand scheme of the MCU, someone with McConaughey's distinct sensibilities as an actor could even create a strong parallel between young Odin's hubris and the cocky nature of Chris Hemsworth's Thor, at least in the hero's first Marvel outing. That's about as poetic as it gets.
If you ask me, it's about time for Matthew McConaughey to get himself involved in the comic book movie world. Rumors have swirled for quite some time that the actor has read for Marvel and DC projects, and while we know McConaughey was approached for Guardians of the Galaxy Vol. 2, he ended up passing, and he currently isn't involved in any upcoming films. There are a lot of interesting roles that the actor seems tailor-made for (from Green Arrow to Norman Osborn), but young Odin looks like one of the strangest and most fascinating of the bunch.
One thing worth pointing out is the fact that future Asgardian adventures in the Marvel Cinematic Universe may require a period setting to work, thus creating room for a young Odin. Early glimpses at Thor: Ragnarok have made it clear that Cate Blanchett's Hela wants to destroy Thor's home realm, and the fact that The Avengers: Infinity War begins with The God of Thunder floating helplessly through space opens up the possibility that she may succeed in that mission. If it does go down that way, then a solo film centering on a young Odin (perhaps portrayed by Matthew McConaughey) could become the only way to tell that type of story. We will just have to wait and see what happens as Phase 3 continues to play out.
A few years ago the prospect of Matthew McConaughey playing someone as fantastical as Odin would've seemed even odder, but the actor has made some great strides as a performer as he has progressed through his career. Following fantastic turns in projects like Magic Mike, HBO's True Detective, and Mud, Hollywood seemingly went all in on the McConaissance and accepted McConaughey as an actor who could do far more than romantic comedies and straight dramas. He's a guy who can tap into the absurd when he needs to, and that could potentially make him an excellent choice for a young Odin somewhere down the line.
It is anyone's guess as to whether or not Matthew McConaughey will ever enter the Marvel Cinematic Universe (as Odin or anyone else), but for now, you can catch him with Idris Elba in The Dark Tower, which is now in theaters. As for Elba, he will make his next MCU appearance as Heimdall when Thor: Ragnarok premieres on November 3, 2017.
Originally from Connecticut, Conner grew up in San Diego and graduated from Chapman University in 2014. He now lives in Los Angeles working in and around the entertainment industry and can mostly be found binging horror movies and chugging coffee.