Three Other Star Wars Characters Who Might Get Solo Movies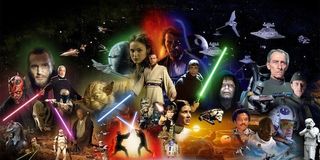 To keep Star Wars fans' appetites whetted in the years when there isn't a new trilogy installment, Disney and Lucasfilm have been releasing standalone movies, officially known as Anthology spinoffs. Rogue One: A Star Wars Story was the first of these special movies, the young Han Solo movie will follow next year and yesterday it was reported that the long-rumored Obi-Wan Kenobi movie is indeed in development, with Billy Elliot's Stephen Daldry in early talks to direct. As for the future, Lucasfilm is reportedly looking at Boba Fett, Yoda and Jabba the Hutt to potentially lead their own cinematic stories as well.
While dropping its exclusive about the latest Obi-Wan Kenobi movie developments, THR mentioned that Lucasfilm is also considering giving Yoda and Boba Fett their own Anthology tales. Variety included Boba Fett in its write-up as well, but it also threw in that a Jabba the Hutt standalone movie is also in development. Should one or all of these movies be greenlit, it would continue the trend of Lucasfilm leaning on established Star Wars characters and mythology for the Anthology spinoffs. Granted, Rogue One's main characters were brand new, but even if we ignore the appearances of Darth Vader, Grand Moff Tarkin and others, it was still centered around an event that led directly into A New Hope. But since Boba Fett, Yoda and Jabba are all familiar names even to folks only with only fleeting interest in the franchise.
A Boba Fett movie has languished in development hell ever since Lucasfilm started planning its Star Wars Anthology lineup. In fact, Fantastic Four reboot director Josh Trank was hired to helm the bounty hunter's adventure, and reportedly there was even a teaser reel for the movie that was intended to be shown at the 2015 Star Wars Celebration. However, Trank left the movie shortly before that event, publicly saying that he made the "personal decision to move forward on a different path," although some reports claimed that his exit was due to creative differences. If the Boba Fett movie is thawed from carbon freeze, it's unclear if it would take place sometime during the Empire's reign or if Lucasfilm would take after the now-Legends Star Wars canon and have Boba Fett escape the Sarlacc Pit so he can have more adventures post-Return of the Jedi.
Star Wars fans have only seen Yoda during his twilight years, meaning there's more than 800 preceding years we could see him in action should his movie move forward. The Marvel Star Wars comic book series recently published an arc that followed Yoda in a pre-The Phantom Menace adventure, and with The Last Jedi rumored to feature Yoda in some capacity, perhaps Lucasfilm is prepping to point the spotlight back on the little green Jedi Master.
Finally, although this is the first time that it's been reported that Lucasfilm is interested in moving forward Jabba the Hutt movie, director Guillermo del Toro has expressed interest for years in making a Godfather-like movie about the slug-like crime lord. Del Toro has also said he's talked with Lucasfilm president Kathleen Kennedy about Star Wars ideas, but there's no guarantee yet if he would be the one behind the camera for a Jabba movie or if someone else would be tapped to direct.
Stay tuned to CinemaBlend for more updates on all things Star Wars, including if any of these rumored Anthology spinoffs end up being put into production.
This poll is no longer available.
Connoisseur of Marvel, DC, Star Wars, John Wick, MonsterVerse and Doctor Who lore. He's aware he looks like Harry Potter and Clark Kent.